During CES 2008, I was able to attend a pre-release preview of U2 3D at the IMAX theater in the Luxor Hotel in Las Vegas. This is the first release from 3ality Digital, who created a movie / concert / 3D experience of the band U2 during their recent Vertigo tour.
As a friend of producers' David and John Modell of 3ality Digital, I first heard about their project after attending U2's opening of the Vertigo tour in Phoenix, Arizona almost three years ago. With that being my first U2 concert I can without hesitation say that U2 puts on an all out phenomenal performance. The lighting and special effects are first class. Unique staging extends into the crowd to bring the band closer to the audience. Their repertoire of songs capture not only sound fantastic, but also preach a positive message of peace, tolerance, and eliminating poverty with emotion and sincerity rarely captured on stage.
Having been blown away by the live performance, the Modells and the folks at 3ality set out to capture U2's essence into a 3D movie. No easy task in my opinion. For simplicity's sake, I will call it a movie, but it's not a movie or concert like you've ever seen before. The intricacies of U2's live performance were captured and transformed into a 3D experience, without comparison.
The movie plays like a sequential U2 concert, in about the same order played on the tour. But the movie was seamlessly cut together from 10 concerts during the South American Vertigo tour. The transitions were so smooth that the whole movie could have easily been mistaken to have occurred from one stadium. The audio and crowd noise blended together so nicely, that the only way I could determine a venue change was by closely watching the people in the first row.
The 3D imagery masterfully captured the emotion of the audience and the intensity of the performers. The wide shots of the crowd in the foreground juxtaposed to the smoke blowing across the stage magically put you into the middle of the concert without the smelly, sweaty concert goers rubbing against you. The close-ups of Bono were so detailed that you could count his fillings. Edge keeps a straight face much of the time, but you may tempted to duck when he swings his guitar around.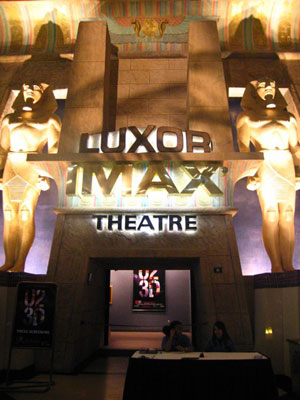 With all of the 3D theatrics the filmmakers could have easily overdone it. Most other 3D movies I've seen are mere gimmicks with a few special effects like Superman 3. Not so, with U2 3D, where you wear your polarized glasses the entire time and don't want to take them off, except to remind yourself that you're really in a seat. That being the problem — it's hard to sit still when the music is that good. I was tempted to get up and dance, well in my case… sway. But the IMAX at Luxor actually locks you into your seat like a roller coaster ride. Also, theaters, may want to confiscate any cigarette lighters, because you'll be tempted to light yours up to the music.

As an audiophile, and owner of eCoustics.com I can appreciate good sound. The audio may vary theater to theater, but you'll certainly want to see U2 3D in the best theater possible. Hopefully they'll even crank it up a notch or two. The IMAX at Luxor is a one of kind theater that stacks each row in a steep vertical fashion so everyone has clear view of the screen with no chance of getting your view blocked. I suspect the highly vertical nature creates an audio challenge. While I thought the sound was good, I would have hoped for more pounding dynamics from the drum solos and more pulsating guitar notes. On the other hand, vocals came across so well that you could actually comprehend the words, if you hadn't already memorized them.

It should be noted the band would not allow the audio to be overdubbed or digitally corrected. What you hear is exactly what the group performed live, which is a testament to U2's talent. They really are that good.

Sitting through an entire virtual concert without drinking, eating, or singing along can be daunting experience if you don't love the band. I'd call myself an average fan who owns a couple U2 CDs. But even an average fan as myself left the screening slack-jawed with amazement. I can't even imagine how much a die-hard fan would love this movie. Given the fact that every concert gets sold out, I would expect much the same when it debuts at your local digital 3D cineplex next month.

While there is nothing like attending a live U2 concert, there has never been a 3D movie event like this either. U2 3D is truly a one of a kind immersion of music and video that needs to be experienced to be believed.

Brian Mitchell
Founder & CEO
eCoustics.com

<!-comments-button-->