Best New TV (coming out this year)
Pioneer Elite PRO-FHD1 50-inch 1080p Plasma HDTV – MSRP: $10,000 (Available June 2006, photo top)
The best TV you'll be able to buy soon is Pioneer's PRO-FHD1. It's one of the first 1080p (1920×1080) plasmas and it was easy to see what a difference the extra pixel count adds. There were bigger TVs at CES, but none looked as exquisite as Pioneer's PRO-FHD1 (excluding the prototypes).
Best Two-Channel Sound
mbl Reference Audio System – MSRP: $160,000


The best sounding room at CES belonged to mbl's Reference system. Their unique speaker design produces the finest and most life-like sound I have heard from any audio system.
Best Sounding Car Audio Stock System
2006 Volvo C70 – Dynaudio Sound System w/ Dolby Pro-Logic II


Most car manufacturers give little thought to the sound system. But Volvo's new C70 with the Dynaudio package had me guessing if it was an aftermarket upgrade. Most impressive was the effect Dolby Pro-Logic II adds by re-aligning the soundstage to appear in front of the driver and passenger simultaneously.
Media Center Must-Have
Gyration Universal Remote Control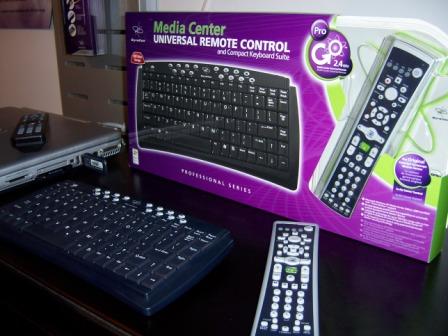 A wireless remote that accesses or controls your media with the flick of your wrist. It's part universal remote, part "air mouse" pointer, which allows you to point the remote at your TV for mouse-like control. The real time-saving begins after you teach it custom movements or sequences. For example, flick your wrist to the right to "fast forward" or raise your hand to increase the volume.
Coolest New Digital Camera – MSRP: $399
Kodak V570 Dual Lens 5-megapixel Digital Camera


The V570 is a sleek, point-and-shoot camera that contains both a wide-angle and zoom lens. Its coolest feature stitches a photo-sequence into a seamless panoramic — within seconds, right in the camera.
Coolest New MP3 Player – MSRP: $249
iRiver U10 Digital Media Player


Where are the buttons? iRiver's innovative design utilizes a psuedo-touch screen, which enables each arrow (side) to be pressed. Besides playing MP3's, the U10 also plays videos and FM Radio. Get the optional dock and you have desktop audio/video player or alarm clock.
Coolest Gadget & Best Product Demo
Slingbox – MSRP: $249


It's not what the product is, but what it allows you to do. Plug in the Slingbox, and you'll be able to watch TV from a computer, phone or PDA with a broadband connection in real-time. Sounds illogical and impossible, but Slingbox extends your entertainment experience to wherever you are.
It was hard not be impressed when Sling Media's staff walked around showing their TiVo'd programs on their PDA/phones. Congratulations on best product demo!
Editorial Disclaimer:
At the time of publication no manufacturer is a current advertiser or has ever purchased advertising on eCoustics.com. The author affirms he and all immediate family members are neither shareholders, partners, investors, subsidiary, consultant, contractor, agency, or affiliate of any of the manufacturers.
Brian Mitchell
Founder & CEO
eCoustics.com