This year's Consumer Electronics Show gave us the annual sneak peak at what new products and technologies to watch out for in the upcoming year. There was aisle after aisle of loudspeakers, flat TVs, and a dizzying array of doo-dads and gadgets. However, a few products rose above the masses.
Kodak EasyShare-One (MSRP: $599, June 2005, photo top)
A flip-around 3″ LCD viewfinder/touchscreen sets this compact 4-megapixel digital camera apart. It's also wi-fi compatible which allows you to e-mail and share photos right from the digital camera — no computer connection is necessary. Printing is also simplified if used with Kodak's EasyShare Dock which prints photo-lab quality prints with the touch one button.
Olympus m:robe 500 (MSRP: $499)

This combo product combines a 1.3-megapixel digital camera and 20GB MP3 player into a stylish touchscreen photo viewer. The large 3.7-inch screen let's you easily view your photos and even set a slideshow to music.
Yamaha YSP-1 (MSRP: $1499.95, March 2005)

This year's winner of G4TechTV's Best of CES is a thin speaker panel perfectly sized to mount on the wall under a thin plasma TV. The single speaker actually contains 42 individual small speakers that aim sounds in various directions, creating a realistic home theater experience from one unit. Yamaha's proprietary digital signal processing further enhances the surround effect. The YSP-1 is home theater made sleek and easy.
Orb Networks (Free Trial, $9.99 per month)



Orb Networks offers a revolutionary service that sends any content in your home to another device anywhere in the world over an internet connection in realtime. Say what? Yes, it's a mouthful. The service allows you to watch a local TV program in realtime on your laptop or PDA while you are out-of-town. More advanced uses include watching shows recorded on your TiVo or listening to entire music library stored on your home computer from wherever you are in the world. The Orb software makes it possible, and the picture/sound quality was surprising good with a fast internet connection during the demo I saw.
Sonos ($1199)


Music through-out your house just got easier with Sonos. It accesses music on your computer or Rhapsody's music service (Available March 2005) and sends music to any room in your house wirelessly. You just connect your speakers up to any Sonos box and you can play the same music or different music in any room at the same time. The beauty of the system is the ipod-like full-color remote control that makes it easy to use.
D-Box "This-is-not-a-chair" Motion Simulator (MSRP: $5000)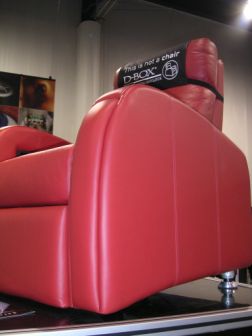 It actually is a comfortable recliner, that takes you on a virtual rollercoaster ride through action movies. Hydrolic pistons under the chair actually rock, shake, and vibrate your seat in synch to movie scenes. At $5,000 per chair it's truly a first-class upgrade.
Optoma MovieTime DV10 (MSRP: $1,495)

Watching DVDs just got a lot more fun and easier with Optoma's MovieTime. It's a projector, DVD player, and speakers integrated into one small box. Place it on a coffee table and enjoy watching DVD movies up to 100-inches. Aim at a white wall, or use a home theater screen for even better performance.
Brian Mitchell
Founder & CEO
eCoustics.com