Dual steel doors insulate Axiom's soundproof testing room where loudspeaker drivers are tested at power levels up to 1200 watts, which produce loudness levels as high as 135 dB SPL.
Replace hollow-core doors
Domestic hollow-core doors, for example, are largely hopeless at reducing the passage of sound. Replacing those with solid wood doors will help considerably. A steel door (again mass is important) will be superior and best of all are two doors, with effective weather-stripping seals on each side. (Remember that one door has to open inwards and the other outwards.)
Like hollow-core doors, single-pane windows have very little sound insulating properties. Double pane windows with an air space between the panes improve things considerably.
Dampening Vibration
The big word here is using non-hardening silicone caulk combined with different materials. Adding a second layer of sheetrock to a wall and studs coated with silicone where they meet will lessen the transmission of vibration. Adding a 6-inch air space between one side of the wall and the other will further reduce the transmission of sound. Filling the air space loosely with fiberglass will further increase transmission loss.
Dual layers of drywall (sheetrock, gypsum board) with silicone caulk between them are very effective, and adding a bead of caulk to the studs before the sheetrock is screwed or nailed will dampen vibrations. You can even get lead-lined sheetrock. Here, not only is the mass effective–it's very heavy–but the differing materials also help. Using different layers and kinds of material will reduce sound transmission significantly.
Overhead view of dual layers of sheetrock: place silicone caulk between the layers as well as where the sheetrock attaches to the studs.
The Staggered-Stud Wall
This type of wall is a clever way of preventing the vibration on one side of a wall from reaching the other side. A 2 x 6-inch base plate is used with alternating 2 x 4 studs arranged so that the 2 x 4s on one side do not connect with the wallboard on the other side of the wall. In other words, there are duplicate rows of 2 x 4s, in a staggered arrangement (see illustration, right) with the inside wall attached to one set of studs and the outer wall attached to the other set of alternating 2 x 4s. It's a clever way to achieve a high STC (sound transmission class) rating. See the rating sidebar.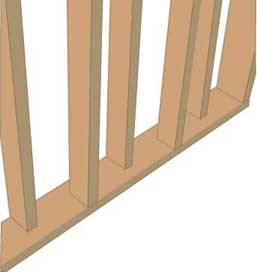 As can be seen, alternative construction techniques with dual layers of sheetrock combined with double-row or staggered stud construction and fiberglass can raise the soundproofing considerably past that of a concrete block wall.
These soundproofing techniques can be applied to construction of a dedicated basement home theater room in an existing house or to new home construction. The next article will deal with soundproofing an existing room in a house by building a room within a room.
STC Ratings
Sound Transmission Class (STC) is a numerical rating given to various materials indicating how resistant the material is to transmitting sound. The higher the STC rating, the greater its soundproofing ability and transmission loss. The lower the number, the more porous a particular material is to the passage of sound and noise. For example, a single-pane window or hollow-core door has a rating of about 20, offering only a slight reduction in sound transmission. But a staggered-stud wall with fiberglass filling the air cavity has a rating well above 50. Here are some sample STC ratings for different building materials and combinations.
Material and construction Sound Transmission Class Rating
(the higher the number, the greater the soundproofing ability)
| | |
| --- | --- |
| Hollow-core door or single-pane window | 20 |
| Lightweight 8-inch concrete block, both sides sealed with latex paint | 46 |
| Single row 2 x 4 wood studs with single layer 5/8-inch Gypsum board (sheetrock) each side | 35 |
| Filling cavity with 3.5 inches fiberglass | 38 |
| Double-row 2 x 4 wood studs, 1-inch plate separation. Single-layer 5/8 gypsum board each side. | 45 |
| Filling air cavity with 3 inch fiberglass batts | 56 |
| Same as above but double layers gypsum board each side and dual layers of 3.5-inch fiberglass | 63 |