Since the introduction of the iPhone, the market for cell-phone cases has undergone a revival. It helps that the iPhone is pricey and it has a huge screen, possibly easy to scratch. But, is it really?
$0 – No case
The most cost-effective alternative is to go without a case. I know people who do it. It turns out the iPhone is quite sturdy and scratch-resistant. Check out this video if you have doubts.
Under $20
If your main concern is protecting the screen, just buy the Power Support Crystal Film — a static clinging film for the screen for $14.95 at your local Apple Store or online at Amazon for Phone Cases.
As an entry-level case get a wild color AluSkin case, or a Cellet silicone case — from $7 to $19. There's nothing fancy about these.
Under $50
There's a wide selection in this price range — from sleek to gaudy. Go with the Agent 18 Eco Shield or the Incase leather fitted sleeve in black — for $34.95.
Beyza leather cases come in a variety of colors and shapes for $29 to $43. The Smart Case is the most sleek-looking, from $35 to $39. GizMac makes a Titan Clear case with holster for $34, though I've never seen anyone carry their iPhone with a belt clip holster — not very hip.
If you really must, you can check out the alternatives here.
Under $100
The Orbino Strada is a tailored leather iPhone case for $99. You could say it fits like a glove, since it is hand-stitched around a phone, and has openings for all the buttons and outlets. You can obviously use your phone without removing this case. If you are a fan of Cole Haan shoes and solid Coach bags, this is the case for you.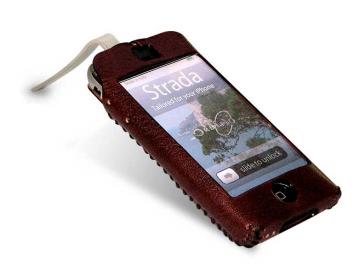 Under $300
Louis Vuitton monogram canvas and leather cases are available at Louis Vuitton stores and online at eluxury.com, starting at $225. These are your options: monogram canvas (for anyone), black taiga (for gentlemen), or red epi (for the ladies). The case is a simple sleeve, so you have to take your phone out to use it. The red epi is my personal favorite, get this if you like Prada or Marc Jacobs. If you are a fan of traditional LV designs — go for the monogram.
Sky is the limit
Louis Vuitton alligator case ($1120) is available for special order. You could say you bought the phone for the case, not the other way around.
Tatjana Mitchell
Contributing Editor
eCoustics.com