Screen Size?
Base your screen size on your viewing distance, your budget, and how much High Definition TV you expect to watch. As a guideline, a 50- to 60-inch diagonal HDTV screen can be viewed with High Definition programs or HD-DVD/Blu-ray HD discs from 8 to 10 feet away. If you watch lots of Standard TV (non-HD) or regular DVD, it looks better from farther back or on a smaller screen. A 50-inch screen is a nice workable big-screen image with lots of impact in most average-size living rooms. For smaller rooms and dens where you'll be closer, look at 42-inch or smaller diagonal screens.
Plasma or LCD?
Plasma flat panels deliver a vivid picture and deep blacks over wide horizontal viewing angles with no picture degradation. However, when viewed from extreme angles, LCD flat panels and rear-projection DLP and LCD sets tend to have grayish blacks, lowered contrast or less brightness. It varies with the brand, so in the store view the screen from the front and then from the side to see if the picture quality degrades at angles away from the front. The best LCD panels from Sony, Samsung, and a few others are much improved in this respect compared with some off-brand models that may have very low prices. If you view the set mostly head-on, don't worry about this factor.
Video Projectors
Consider a video projector and separate screen only if you plan to watch HDTV or DVD in an almost totally darkened room or in a dedicated home theater. Excellent front projectors like the new Panasonic PT-AX200U have become quite affordable, with prices in the $1500 range or less, and they can deliver spectacular big-screen images in dark rooms.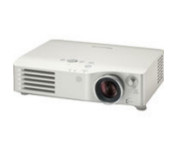 Reflections:
Most plasma screens have glass front panels that may cause distracting reflections or distortions if a bright window is opposite the TV on the other side of the room; LCD panels usually have a type of non-reflective plastic that is much less prone to reflections. A factor only if your room has lots of bright uncovered windows.
Going Green
If using less energy is a significant factor for you, plasmas tend to use more power and give off more heat than LCD screens, although some new plasma sets (Panasonic) are claiming reduced energy consumption. You can check this in a store: put your hand over the top of the set and see how much heat is generated. If the set gives off lots of heat, you can figure it's sucking up quite a bit of energy. A brochure or web site will normally state the power consumption in watts, if you can read the fine print. The power pigs will eat up about 400 watts; the less hungry LCD panels and DLP/LCD rear-projection sets, about 220 to 250 watts.
Thick or Thin
Everyone is gaga over the wall-mountable flat-panel plasma or LCD displays, but overlooked in the rush to get a flat panel is the fact that the best DLP or LCD rear-projection sets, while lacking the sexy thin profile of the flat panels, are able to deliver stunning big-screen images for significantly less money than a comparable plasma or LCD flat panel. Moreover, they're thinner than they used to be. Don't ignore the rear-projection sets; many are relatively big-screen bargains.