With all the new 4G smartphones in the spotlight at the Mobile World Congress in Barcelona this week, we decided to take a look and see if there were any differences among the three leading "4G" technologies: Sprint's Mobile WiMAX, LTE from Verizon and soon AT&T, and HSPA+ currently offered by T-Mobile and AT&T. Mobile WiMAX has been available longer than LTE and is used by Sprint. HSPA+ is not really 4G although, technically none of the current 4G offerings meets the official 1 Gbps peak data rate standard for 4G, but HSPA+ is faster than 3G and currently more widely available than LTE and WiMAX through T-Mobile and AT&T. However, it looks like LTE is fast becoming the dominant 4G standard. It is currently available from Verizon and will soon be available from AT&T.
Your Data Rate May Vary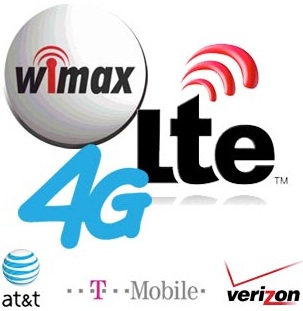 Despite higher theoretical data rates of 100Mbps for LTE, 40Mbps for WiMAX and over 20Mbps for HSPA+, in real world operation, T-Mobile's HSPA+ averages around 6 – 10Mps with some users reporting up to 25Mbps downloads. Sprint WiMAX users also report average rates of 5 – 10 Mbps. LTE can theoretically run at 100Mbps although Verizon is claiming an average of 5 – 12 Mbps with users reporting similar results including higher bursts. 3G download data rates typically run around 1Mbps.
WiMAX Losing Ground to LTE
WiMAX or Worldwide Interoperability for Microwave Access is an IEEE standard (801.16e) and received a big boost from very prominent supporters early on. Intel and Motorola invested millions to support WiMAX including a combined $900M investment in Clearwire who is the WiMAX service provider for carriers like Sprint, Time Warner Cable and Comcast. Cisco was on the WiMAX bus at the beginning but has since shifted towards LTE. LTE or Long Term Evolution came out of Japan telecom giant NTT DoCoMo and has been developed by the Third-Generation Partnership Project (3GPP) as a successor to the 3G technology High-Speed Packet Access (HSPA). In late 2007 Verizon and AT&T announced they were going with LTE saying it offered a better migration path for their 3G networks. Meanwhile large carriers like Yota, Russia's 500,000 customer network and Holland's WorldMax, have abandoned WiMAX in favor of LTE and major carriers in China and India have also chosen LTE. As a result Mobile WiMAX which may have had an early lead could start feeling overpowered and may run out of momentum as WiMAX adopters defect and new 4G providers choose LTE.
HSPA+ Could Be a Reasonable Transition Path
As Verizon begins to slowly deploy its LTE network, other carriers like T-Mobile and AT&T are providing HSPA+ as their interim 4G networks while they build out their own LTE networks. HSPA+ however, is widely deployed by AT&T and T-Mobile and could also be a better fallback option than Verizon's EV-DO 3G when LTE is unavailable.
Frequency vs. Time Domain Duplex
In order to transmit and receive data at the same time or very close to it, LTE will come in two duplex schemes, FDD-LTE (frequency division duplex) which allows for simultaneous up and down transmissions but needs a paired spectrum like GSM currently uses. TD-LTE (time division) can use an unpaired network whose spectrum can be cheaper to obtain than paired spectrums. China's biggest carrier China Mobile as well as some Indian wireless interests are planning on rolling out TD-LTE networks. WiMAX also uses an unpaired spectrum. Fortunately it looks like consumers shouldn't have to worry whether their LTE phone is FDD or TD since one chipset can easily "roam" between networks although it remains to be seen if this is born out in practice.
Tip: If you're going to be traveling outside the United Stated make sure your 4G phone will support both TD and FDD standards so you can roam across them.
What Are Carriers Offering?
Verizon is using FDD-LTE in the 700 MHz band that it acquired in that big spectrum auction in 2008. To date, they have deployed 4G in 38 cities and 60 airports. They plan to have their entire 3G footprint covered by 4G by the end of 2013 as well as expand 4G into areas not currently covered by 3G. Verizon has announced a host of 4G smartphones including the Droid Bionic and the HTC Thunderbolt.
AT&T claims they have almost their entire 3G network covered by HSPA+ and will begin turning up their FDD-LTE network towards the end of the year. HSPA+ should deliver around 6Mbps or more and could also be a better fallback than Verizon's EV-DO.
Tip: The question to ask the AT&T salesperson is, will an HSP+ phone you buy today like the new Motorola Atrix run on their LTE network when it becomes available later this year?
It remains to be seen how long Sprint and Clearwire will remain committed to Mobile WiMAX. Clearwire's WiMAX currently covers 62 cities while Sprint says they'll have 200 million points of presence (POPs) or places where service is available, by the end of 2011. Sprint's HTC EVO 4G has many satisfied customers running on their WiMAX networking experiencing around 5 -10 Mbps downloads.
T-Mobile is promoting HSPA+ as their "4G" network similar to AT&T. They plan to build out an LTE network. Their G2 slider smartphone was their first 4G phone. MetroPCS says they will have a 4G LTE network when?

Check out Retrevo's 4G Smartphone Rollout Schedule and Comparison Chart
Who Will Win the 4G War?
There's no question, once 4G networks become widely deployed (which could be a couple of years from now) mobile computing will not be the same. Phone, tablet and computer users will experience mobile network speeds similar to what they see on their home broadband networks and high speed persistent connection will make possible all kinds of monitoring and interactivity.
Right now, it looks like LTE in both TD and FDD flavors will prevail over WiMAX. If Sprint and Clearwire can upgrade their WiMAX to 801.16m and crank up the speed to 100Mbps soon, they could still have a chance as an alternative to LTE. However, with all the big carriers here and abroad adopting LTE, it doesn't look good for WiMAX long-term. Would we buy a WiMAX phone today? The answer runs from maybe to probably. Short term (the next couple of years) WiMAX should be fine, beyond that we wonder if Clearwire and Sprint will end up jumping on the LTE band wagon themselves.
Could Clearwire Be a Clear Winner?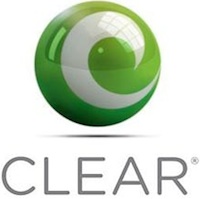 There are even signs that Clearwire may already be abandoning WiMAX as we read reports of Clearwire testing LTE in Phoenix. Basestation providers like Samsung have apparently simplified the process of switching from WiMAX to LTE by making their WiMAX basestations easily reconfigurable to either flavor of LTE (FDD or TD). Clearwire might be able to offer a combination of technologies or decide to use the most suitable network for the area. Furthermore, by implementing the latest WiMAX IEEE standard 801.16m with its theoretical 100Mbps data rate, Sprint and Clearwire could become more competitive with LTE. Clearwire and Sprint also have many satisfied customers who appreciate the high QoS (quality of service or "availability') and low latency (shorter transmission delays) of WiMAX.
Phone Plans May Be a Factor
The big question may end up being which carrier's data plan will be most attractive to consumers? At the moment Sprint with its unlimited data plan looks much more attractive than Verizon's low data cap which could be used up very quickly and become quite costly. Meanwhile T-Mobile's HSPA+ looks like a very reasonable option with speeds comparable to LTE and WiMAX and the lowest priced data plan that doesn't charge for going over the cap although it may throttle the speed down.
Will 5G Make Your 4G Phone Obsolete?
If you're worried about the next generation wireless network making a 4G phone obsolete anytime soon, you have nothing to worry about. New mobile generations have typically come at 10 year intervals starting with 1G in 1981, 3G in 2001 and now 4G in 2011 so don't expect 5G to make an appearance until 2020. That doesn't mean we won't see many variations of 4G before 5G comes along in fact, field testing is about to get underway in Japan for LTE-Advanced which could get LTE to that official 1Gbps data rate.
by Andrew Eisner, Retrevo.com (reprinted with permission)