Big banners proclaimed 3D as the new
dimension in TV
Still, if the video display manufacturers are pinning their hopes on the potential success of 3D TV, I'd call for some restraint, at least until the issue of annoying glasses is resolved. But restraint is not a quality one associates with new products introduced at an annual side show of consumer electronics, and I was caught up in the P.T. Barnum-like atmosphere, ready to don my glasses (over my regular glasses—aaargh) and prepared to be impressed.
3D TV was everywhere, proclaimed even on the huge banner stretched outside the main pavilion of the show. Panasonic, Samsung, and Sony, among others had big 3D setups, surrounded by groups of attendees all wearing shiny glasses to stare at the clips from "Avatar" and other 3D program material. The scene was not unlike sitting in movie theaters as a 9-year-old in the 1950s, watching a 3D "House of Wax" in another era when Hollywood felt 3D might lure customers back into the movie theaters to compete with that new-fangled gizmo called television, which had robbed movie theaters of its big audiences.
Clunky Glasses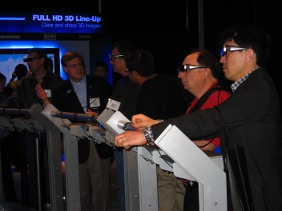 Viewers with glasses viewing
Panasonic's 3D screens
In terms of technology, not much has changed. You still have to wear glasses that allow your brain to receive alternate images, slightly offset, from each eye, to yield the three-dimensions we see in real life. 3D movies or TV shows still have to be shot with expensive and unwieldy dual-lens cameras. The 3D playback systems from Panasonic, Samsung, and Sony all use radio- or infrared-triggered battery-powered active-shutter LCD glasses which may cost $100 (one or two pairs are likely to be included with a 3D TV) and which so far are not compatible from one manufacturer to another. Mitsubishi is staying with DLP and an external box synced to the glasses so apart from the external box that sends the alternating images at 60 per second to the DLP rear-projector, there isn't a big increase in cost.
The main problem for anyone who wears normal glasses is fitting the active-shutter 3D glasses over your regular lenses so you don't get optical distortions and other anomalies. Whether it was due to the former or inherent problems with the active shutter glasses and my brain, I experienced odd motion anomalies and a tiring effect unless I kept adjusting the 3D lenses and viewed the display directly from in front. Even then, I wanted to remove the clumsy glasses after a few minutes of viewing.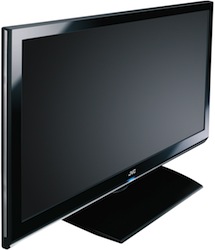 JVC's 3D Impressive
Oddly overlooked (I almost missed it) and under-reported was JVC's stunning 46-inch 3D display, which uses inexpensive lightweight cardboard polarized glasses for viewing. Unlike the clunky active-shutter glasses, the almost weightless cardboard lenses easily fit over my own glasses, and I experienced none of the motion anomalies or tiring effects. The JVC system is actually out there, a real product, for sale at about $8,500, but most of the screens are going to movie-mastering studios and hospitals for medical work. I confess I was fascinated with the images and had to tear myself away. They also had a $30,000 2D-to-3D converter box that worked remarkably well with existing 2D material fed into the converter. If a glasses-based system is to succeed, I'd cast my vote for the JVC and the cheap, light glasses.
Getting Real About 3D
Let's get something straight: your existing Blu-ray player won't work for 3D. That's right, you'll have to go out and buy a new 3D-capable Blu-ray player (3D requires huge bandwidth) as well as a 3D-ready or 3D-capable screen display or front 3D projector (Optoma showed a new 720p 3D model). But many consumers have just upgraded from standard DVD to Blu-ray, and from Standard Definition CRT sets to sleek flat-panel High Definition TVs. And now the industry is expecting us to go out and buy another 3D-capable flat screen and a 3D Blu-ray player? I don't think so, at least not for years and years, if ever.
3D Without Glasses
What about 3D without glasses? I watched one demo from a Chinese company, TCL, which uses a lenticular-lens system that when viewed from head on, lets your eyes see different images and delivers a 3D effect. It worked, but any head movements on my part seemed to cause it to alternately revert from 3D to 2D then back with unpleasant flickering side effects. I noticed other peculiarities that would prove tiring over longer viewing times. Still, the demo showed what's possible and if refined might hold the future of 3D television for the mass market.
3D Content: What to Watch?
3D seems best suited to mega-effects adventure/fantasy movies like "Avatar," sports (I watched part of a 3D soccer match that seemed much less boring than usual–apologies to soccer fans), animated movies, and games. Of course gaming is huge (there are 400 3D games already available) and gamers usually sit directly in front of the display, where current 3D works best. DirectTV is launching a 3D network channel, as is ESPN, plus Sony will join with Imax and the Discovery channel to generate 3D content. However, I do not think 3D adds much to regular broadcast TV (the 3D clip of "Wheel of Fortune" was fun but sort of gimmicky) and from a practical point of view, broadcast 3D TV won't be in High Definition because of the huge bandwidth demands. I'll take High Definition TV any day over watching Standard Definition TV in 3D. Finally, a bad movie is still a stinker whether it's in 3D or not. In other words, 3D won't improve a lousy story line or make bad acting more tolerable. Good storytelling and acting still transcend the medium. 3D brings momentary amusement but after the initial 3D "wow" effect dissipates, you're back with, is it a good movie or not?
Thin is In
LG showed its full LED slim borderless flat panels
In other news, screens are becoming crazy-thin, with an LED edge-lighted flat screen from LG that measures just 6.9mm thick (that's 0.27 inch, less than one-third of an inch). The LG claim was "borderless TV", and with the very thin bezel the screen did seem to almost float in space. Samsung countered with a 0.28-inch screen depth. Both Samsung and Sony showed new LCD panels with edge-lit LED lighting and local dimming plus 240-Hz refresh rates for improved motion and contrast performance. Samsung will have 19 new 3D-enabled screens, both LCD and plasmas, some of which will have an auto-conversion from 2D to 3D feature. Sony plans on offering 3D capability as an option for some models and a "fully bundled" 3D package on others. The 3D package sets includes an infra-red emitter built into the bezel of the set that triggers the alternating-shutter active 3D glasses.
Pansonic's huge 4K super-resolution display
4K Super HD
Obsessed by all the 3D, I almost missed Panasonic's enormous "4K" flat-screen display. It's super HD, nicknamed 4K because the native resolution measures 4096 pixels horizontally by 2160 vertically (4096 x 2160) compared to our current "meager" 1920 x 1080. It did look spectacular.
Reduced Power Consumption
The manufacturers are certainly listening regarding "green" power consumption. Several displays had large red power consumption read-outs (the ones I viewed showed consumption around 90 watts) and Samsung claims new low-power LEDs for some of its edge-lit displays that are said to consume only 60 watts during normal operation.
Built-in internet connectivity for new TVs is gaining ground and the consensus seems to be that this will only increase in the future.
Loudspeakers
While much of the hoopla centered around 3DTV, thinner screens, wireless internet gadgetry and phone "apps," there was still a range of interesting and exotic loudspeakers to listen to in individual hotel suites and at "T.H.E. Show" a high-end show not affiliated with CES but resident at the Flamingo hotel. Among the oddities was a small two-way speaker from Kiso Acoustic, co-developed with Takamine guitars of Japan, the claim being that the highly resonant enclosure (the cutaway model looked to be braced like the inside of my own Takamine 12-string acoustic guitar) adds a rich sonority to the reproduced sound. While pleasant sounding, the little 10-pound two-way had a stratospheric price, and the design rationale seemed highly unusual –"controlled reverberation" of the cabinet "along with the music" is cited in the literature.
One thing struck me as I returned on the monorail to my hotel to pack on the last day of the show, and that is that innovation in audio/video and consumer electronics continues briskly. After almost 30 years of CES shows, I continue to be dazzled by the advances showcased each year.