1. Q. What is HDMI?
A. Developed by Hitachi, Panasonic, Sony, Toshiba, Philips, Thomson and Silicon Image, the High Definition Multimedia Interface (HDMI) is a compact 19-pin plug (about 30% larger than a USB connector) and cable for connecting High-Definition video and multi-channel audio-capable components (HDTVs, HD-DVD and Blu-ray players, HD camcorders and so on) as well as helping to speed the convergence of computer and consumer AV products.
2. Q. How is it different from the component video cables that I use between my current DVD player, AV receiver and TV set?
It differs in two important ways: Your three component video cables carry the High-Definition video (or standard-def video) in analog form. While component video is technically capable of carrying a 1080p signal, the copy-protection schemes won't allow it. HDMI is a digital interconnect, hence it carries the hi-def video signals in uncompressed digital form. This avoids two conversions of the video signal from digital to analog and back to digital again, thereby eliminating potential image losses that may occur in the two digital-to-analog conversions that take place. Even though HDMI is an all-digital connection, there is still a conversion that takes place in the display.
There's another big advantage of an HDMI link: it combines the digital video with multi-channel digital uncompressed audio – up to 8 channels – into a single connecting cable. (HDMI also replaces an older digital cable standard called DVI, which, although it carried digital video, did not have the multi-channel digital audio capacity of HDMI on a single cable.) Incidentally, "uncompressed" means there are no losses in the digital audio, i.e. no data is thrown away in order to "fit" the signals into a certain format like a Toslink optical or digital coaxial connector. For example, existing Dolby Digital (or dts) 5.1-channel digital soundtracks are "lossy" – some data is ignored in order to squeeze six channels of sound onto a regular DVD soundtrack and output it over a single digital coaxial or optical cable.
3. Q. OK, so what's the big advantage? Dolby Digital 5.1 sounds pretty good to me.
A. Dolby Digital 5.1 is very good (so is dts), but both are lossy,as mentioned above. In losing that data, the sound may become a little coarser. By contrast, CD (remember that?) is a lossless format: no data is thrown away in the linear PCM (Pulse Code Modulation) bitstream that comprises CD sound, which is why it sounds so excellent (assuming a good recording). In comparison, MP3 is a lossy-very lossy-format, which also explains why slower-running versions of MP3 sound so crummy.
4. Q. There's been talk of different versions of HDMI and possible incompatibilities.
A. OK, let's get this straight: There have been four versions (plus several a and b variants) of HDMI– but each one uses the same 19-pin cable and plug! The latest HDMI standard is 1.3; the first was HDMI 1.0. As the original standard evolved from HDMI 1.0 through 1.1, 1.2, and now 1.3, the cable and plug remained identical. The only things that changed were increased capacity and versatility in some areas.
For instance, all versions of HDMI will carry 1080p HDTV signals as well as 8 channels of digital audio at 192 kHz/24-bit resolution. In fact, if you purchased a new "1080p" high-def display, that means it's capable of displaying an image of 1920 x 1080p (1,980 pixels across each of 1080 progressively scanned lines) and you must use an HDMI cable to deliver that resolution from an HD-DVD or Blu-ray hi-def disc player. If you use the component video outputs on those players, the resolution will be limited to 480p, the same as standard DVD, because the Hollywood guys do not want you making perfect digital copies of their copyrighted movies.
5. Q. So what are some of the other features of "increased capacity and versatility" that you mention are part of newer HDMI versions?
A. One really neat feature is an "Auto lip-sync" ability that enables an HDTV that is HDMI 1.3-capable to automatically correct any out-of-sync video and audio-so called "latency" that may occur in some HDTV sets because the complex video processing slows down the video signal relative to the audio causing the sound to arrive before the actors' lips move. This can be really irritating for some viewers (myself included). HDMI 1.3-capable HD sets will automatically correct out-of-sync dialog. Keep in mind that if you want this and other features, the source components (Blu-ray or HD-DVD) plus your AV receiver and HDTV display must all be HDMI 1.3-compliant.
6. Q. What about the nightmare stories I've heard about HDMI not working with some HDTV sets or other components?
A. It all relates to HDCP-High definition Digital Content Protection, the digital anti-piracy scheme that keeps you from ripping off Hollywood. Whatever devices you want to connect with an HDMI cable and ensure that you're going to see a high-rez picture and enjoy high-quality sound must be "HDCP compliant." So look for that phrase in any features or specifications listed about the TV display, the AV receiver, and the video player, be it a DVD, HD-DVD or a Blu-ray machine. "HDCP compliant" indicates that the HDTV set and the other components will communicate with each other and check to ensure that all include the HDCP anti-piracy codes. If one of the components is not HDCP-compliant, then it won't pass the HDMI signals and you won't see or hear anything.
7. Q. So what are the new digital multi-channel surround sound formats that HDMI will carry?
A. HDMI 1.3, the latest version, will carry Dolby True HD bitstreams as well as DTS-HD Master Audio, both of which are lossless digital audio formats developed for the soundtracks of HD-DVD and Blu-ray discs. These will be decoded by a new generation of AV receivers appearing this fall. HDMI 1.3 will also carry Dolby Digital Plus (DD+), a much-improved lossy compression system that runs at 6.1 megabits per second, a huge improvement over conventional Dolby Digital 5.1, which runs at just 0.64 megabits per second. DD+ can convey up to 13 channels of sound compared to Dolby Digital's 5.1 channels. The data rate of DD+ is so fast that like Dolby True HD and DTS-HD Master Audio, only HDMI 1.3 will carry it.
8. Q. My present AV Receiver has only Dolby Digital 5.1 and dts. Will I have to replace it with a new AV receiver to hear the benefits of these new digital soundtracks?
A. No, not necessarily. Many new HD-DVD and Blu-ray players have built-in decoders that will output the new multi-channel audio formats over HDMI as 8 channels of linear PCM 192 kHz/24-bit uncompressed digital audio, so if your AV receiver or AV preamp will handle a multi-channel PCM signal and is HDMI-compliant, then you'll be fine. In other words, if the HD-DVD or Blu-ray player will internally decode the new sound formats and output them as 8-channel linear PCM, then any HDMI connector will carry that multi-channel signal. HDMI version 1.3 is only necessary if you plan to have a new AV receiver with built-in decoding of Dolby True HD or DTS Master Audio. Note also that all versions of HDMI will carry existing Dolby Digital 5.1 and DTS compressed bitstreams as well.
9. Q. My HDTV is a 720p model. If I use the new HDMI 1.3 connector, will it deliver 1080p to my HDTV display so I can see the improved clarity?
A. No. You could use the HDMI 1.3 connector or earlier versions of HDMI but the native resolution of your HDTV is 720p, which limits its maximum resolution to that figure. Even if you connect a Blu-ray or HD-DVD player outputting 1080p, your TV will scale (convert) it to 720p. Your set cannot display greater resolution than its "native" display.
You'd have to purchase a new 1080p HDTV to see the improved clarity that 1080p can yield. Note however that all HDMI cables will carry 1080p and all lower resolutions of video-1080i, 720p, 480p and 480i. However, only HDMI 1.3 has built-in future capability of resolutions as high as 2560 x 1600p ("1080p" video is 1920 x 1080 pixels) should those ever become available on disc or from broadcast sources.
10. Q. I have some DVD-Audio and SACD high-resolution audio discs. Will HDMI cables stream those multi-channel digital signals to an AV receiver?
A. Beginning with HDMI version 1.1, support was added for DVD-Audio; HDMI 1.2 and all subsequent versions of HDMI added support for SACD (one-bit audio). Some Universal DVD players that play DVD-Audio and SACD, for example the Oppo HD970, may convert SACD to linear PCM and output that over HDMI, in which case an AV receiver that will handle multi-channel linear PCM will play those discs with no losses of audio resolution. DVD-Audio is always converted to linear PCM for streaming through HDMI versions 1.1 and later.
11. Q. With all these digital audio and video capabilities, are HDMI cable lengths really critical?
A. Yes. Actually, the thickness of the internal wires-the cable gauge-matters just like with analog speaker cables. For example, if the HDMI cable's internal wires are 28 gauge, then you can run up to 16 feet or 5 metres. More robust cables with thicker 24-gauge wires will operate up to 39 or 49 feet (12 to 15 metres). Note that the given figures are for ideal conditions. Many cables will not transmit over these lengths. For very long cable runs, there are alternatives like CAT-5 cables that can extend HDMI to lengths of 300 feet or more.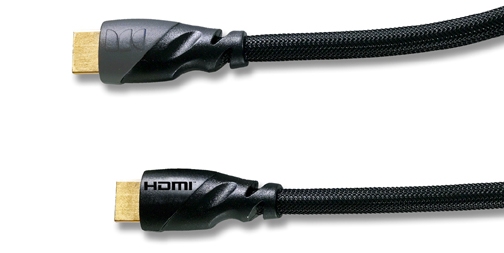 So that's the really important stuff about HDMI-for now. Yes, there were 11 questions, but HDMI has so many aspects to it that ten facts didn't seem to quite cover it. I'll leave comments on some of the other HDMI capabilities covering "Deep Color" and other features for the next article.

by Alan Lofft, (bio), Axiom Audio