MySpace Mobile To Debut on Helio
HELIO LLC, a new mobile brand built for young, tech-savvy consumers, today unveiled its exclusive launch devices — the Hero and Kickflip — and initial details about its mobile service strategy. The multimedia handsets, debuting exclusively with Helio this spring, are designed to maximize the high-speed 3G experience for US consumers. The Helio service portfolio has also been carefully crafted to make Helio the hub of a connected group of friends by giving members extraordinary access to the people, entertainment and information they care about. Highlighting Helio's services suite is a partnership to optimize the mobile MySpace experience for Helio members.
Exclusive, Powerful Handsets
The first two Helio devices, based on popular high-end handsets from Korea, combine innovation from one of the most advanced 3G markets in the world with design elements and features tailored for the US consumer.
The jet-black Hero, produced by Pantech, is a multimedia powerhouse, featuring a virtual mobile entertainment center with a 2.2 inch, 262K-color high-resolution QVGA LCD display, industry-leading audio capabilities with full duplex stereo speakers, removable memory, and a 2.0 megapixel camera with digital zoom and flash for capturing pictures and video. Hero also packs a co-processor chip that delivers high-quality music and video for an exceptional entertainment experience, allowing versatility in content and services like never before.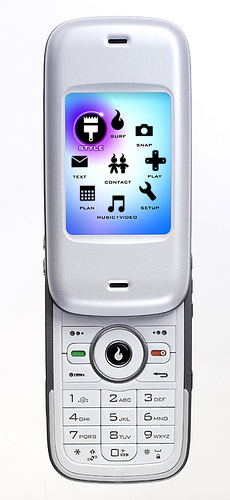 The pearlescent Kickflip, produced by VK Mobile, packs similar advanced features as the powerful Hero in a sleek body with an innovative swivel opening that flips to the right or left with the simple nudge of your finger. The swivel action was designed by Helio to be fun and addicting, like its services. Hero and Kickflip each sport an elegant, luminescent user interface designed by and exclusive to Helio. The jet-black Hero features a "night" themed interface, while the lustrous Kickflip glows with a "day" theme.
"Helio is for those of us who want a badge of personality, not a phone; a mobile lifestyle, not a utility," said Sky Dayton, CEO of HELIO LLC. "We combine innovation directly from Korea, one of the most sophisticated mobile cultures in the world, with local consumer insight to give our members devices and experiences they've been craving but haven't had access to before in the US."
Helio Services
Helio will offer services customized for its members that combine access to friends, games, music, video and more with exclusive community-based functionality that enhances their overall experience. "The true power of wireless is about communication, about connecting us to our friends when we're out living life," added Dayton. "This is also a signal of Helio's unique approach in the industry. Instead of simply cutting and pasting the traditional monolithic content distribution model into the third screen', we see the mobile device as the hub of your world, and content itself not just as something to be consumed, but as particles of communication to be discovered and shared."
MySpace Mobile On Helio
Anchoring the Helio service vision as the hub of a connected lifestyle is a launch partnership with MySpace. MySpace Mobile On Helio will bring together the phenomenon of online social networking with the power of wireless connectivity to transform the way people discover, create and share within their connected lives. Helio is customizing the MySpace Mobile experience to free the more than 55 million MySpace users from their PC, giving them anytime, anywhere access to their MySpace network.
"MySpace Mobile On Helio will allow our members to share their lives as they happen and evolve the MySpace experience from being about what you did last night to about what you are doing right now," said Rob Gelick, head of media and community services, HELIO, LLC.
MySpace Mobile On Helio is a rich mobile service that leverages the devices' advanced capabilities to keep MySpace members connected to their network through mail, bulletins, profiles, blogs and photo galleries. The mobile service will offer a look, feel and overall customer experience that are true to the online
MySpace environment while optimizing it for mobile including:
Mailbox: Ability to read and write MySpace mail from your Helio device
Bulletin: Send messages to all your friends anytime, anywhere from your Helio device
Blogs: Read and write blogs on-the-go without a PC
Photos: View photos on friends' profiles optimized for your Helio screen
Profiles: View profiles and add new friends as you meet them directly from your Helio device
The service will also enhance the overall MySpace experience with new features and content sources
including:
Photo posting directly from a Helio device so experiences are shared as they happen
Added photo storage capacity exclusively for Helio members
A mobile online status indicator in a user profile for those online via a Helio device
Helio will launch in the US this spring. Stay tuned.
About HELIO
Hello. We're a new mobile brand dedicated to giving young, passionate consumers the type of wireless experience we've been waiting for. HELIO launches in the spring of 2006 with mind-blowing devices and services and uncompromising, straightforward pricing and customer care. Helio is a joint venture between SK Telecom, the world's most innovative wireless carrier, and EarthLink, the next generation Internet service provider. www.helio.com
About MySpace.com
MySpace.com is the premier lifestyle portal for connecting on and offline. By integrating web profiles, blogs, instant messaging, e-mail, music streaming, music videos, photo galleries, classified listings, events, groups, college communities and user forums, MySpace has created a connected community. As the second ranked web domain in terms of page views*, MySpace.com is the most widely-used and highly regarded site of its kind. With more than 55 million members, MySpace is committed to providing the highest quality user experience and will continue to innovate with new features that allow its users to express their creativity and share their lives, both online and off.
* Among the top 2000 domains. comScore Media Metrix, January 2006. For more information on comScore Networks, please go to http://www.comscore.com.
# # #
"Helio," the "Helio" logo and any other product names, service names or logos of HELIO used, quoted and/or referenced herein are trademarks or registered trademarks of HELIO LLC. All other product names and/or company names used herein may be protected as trademarks of their respective owners.