New member

Username: Drukid

New Castle, IN United States

Post Number: 1
Registered: May-11



I'm renting a house and have basic comcast cable and interent.
Recently I have had to upgrade to a small cable box to get my channels, however I have a fairly new Vizio tv which picked up the digital channels that come in much more clear than through the cable box but I like getting more channels. I'm also to cheap to have a dvr so i have a dvd recorder that a little older that i used to record shows i miss. my dvd recorder cannot pick up digital channels so to record im forced to use the cable box. Here's what I want to please tell me if its possible!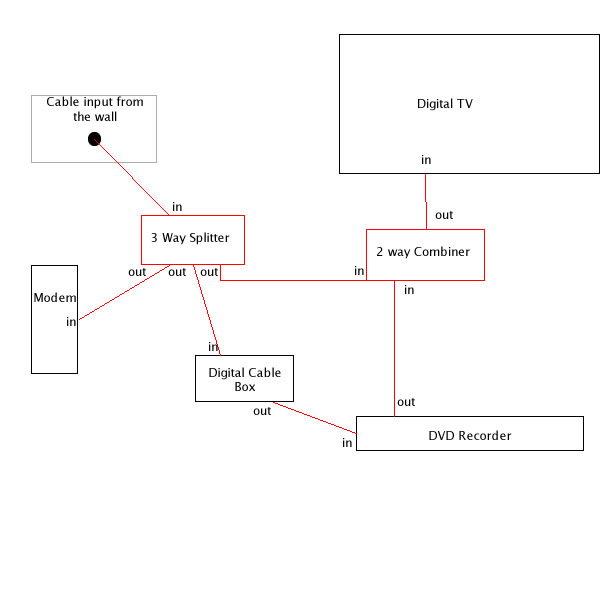 Silver Member

Username: Ieee488

Post Number: 598
Registered: Dec-07


So far, they haven't converted to a scrambled digital signal yet.

So, I have a 3-way splitter from the wall jack. One output of the splitter goes to the cable modem, one output goes to the Magnavox DVD recorder with digital tuner, and one output goes to the TV with digital tuner. The Magnavox DVD recorder is connected by HDMI to the TV so I can watch DVDs or programs that I recorded on the Magnavox's hard drive.

I am not sure what you are doing with the combiner.