Silver Member

Username: Themangod

Post Number: 542
Registered: Oct-06



The Sonicview 360 Elite is here! What makes this one different you might ask, well that would have to be the fact that it is a Dual Tuner pvr for under $200. The SV-360 Elite is one of Sonicviews new line of models consisting of the Premier (Single Tuner pvr) Elite (Dual Tuner pvr) and the soon to be released SV-360 HD.

The SV-360 Elite comes packaged with basic av cables, Serial Cable, Diseqc, Instruction Manual, and the same great Remote used on all their models. As you can see from the pic above the SV-360 Elite is probably the slickest looking stb around with its hidden usb port and blue back light Sonicview Emblem, easily blends in with todays high end consumer electronics.


Sonicview 360 Elite File Fix Setup Support Forums

[link removed]



http:///www.dsstester .com



[link removed]




http://www.ftabins.net/showthread.php?t=42923




good luck.


this review above is for the sonicview elite 360 not the sonicview 360 premier which is also out.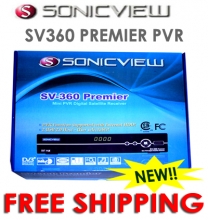 }