Silver Member

Username: Johnner

Miami, Florida

Post Number: 332
Registered: Nov-05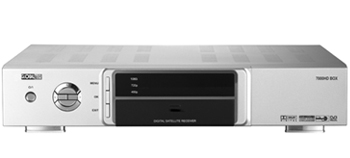 Pansat HD Features

- View Standard Definition/High Definition contents (MPEG2 and support MPEG4 AVC/H.264)
- Fully Digital HDMI ( SD/HDTV formats)
- Full Compliant of MPEG-S &DVB-S2 Digital & DVB broadcasting
- 2 Common Interface
- Front USB connection
- Card Reader embedded
- 950-2150 MHz input Frequency (IF Loop Throughout)
- Satellite Scan - Simultaneous Scan with 4 Satellites
- Flexible receiption of SCPC & MCPC from C/Ku-Band Satellites
- Variable Input Symbol Rate (1-45 Msps)
- Video output resolution: 480p,720p,1080i
- User selectable output resolution
- EPG (Electronic Program Guide)
- Multi language OSD
- Automatic PAL/NTSC Conversion
- Fast Channel Change
- 5000 Channels TV & Radio program
- Timer Function (Automatic Turn On/ Off by Setting Function)
- Conditional Access
- RTC (Real Time Clock)
- PIP , PIG (Picture In Graphic)
- 5 Favorite List & Unlimited Programs per each
- Powerful Channel Editing Fuction
Sorting: Alphabetic, Satellite, FTA/Scramble, Parental Lock
Move, Delete, Favorite Edit
Parental Lock, Channel Rename, Channel Skip
- Manual PID/ Satellite & TP/ Network Scan
- S/PDIF (Digital Audio or Dolby AC3 Stream out)
- 1 optical digital output for Dolby Digital and PCM digital audio
- Diseqc 1.2 and USALS Compatiable
- Comparable of Setting the Frequency for SMATV System
- SD Memory card compatible(JPEG,MP3,firmware download)
- Software Upgrade via RS-232C (Receiver to Receiver, PC to Receiver)
- Component Out (YPbPr)
- Universal Remote
- OTA


--------------------------------------------------------------------------------

Pansat HD Specs

Front-End
1 Input Connector F-type, IEC 169-24
IF Input Frequency 950MHz to 2150MHz
IF Loop Throughout 950MHz to 2150MHz
Input Level -65 dBm~-25 dBm
LNB Power 13 /18VDC / 500mA Max
DiSEQqC Control Diseq1.2 & USALS compatible
Band Switch 22KHz Tone
Modulation method LDPC/BCH(DVB-S2) 8PSK/QPSK, DVB-S QPSK
Symbol Rate LDPC/BCH(DVB-S2) 8PSK/QPSK :10~30Msps / DVB-S QPSK: 1~45Msps
Viterbi Decoding Rate 1/2,2/3,3/4,5/6 and 7/8
Reed Solomon Decoding FEC: 204, 188. t=8
LDPC/BCH Punctured Code ,1/2,2/3,3/4,3/5,4/5,5/6,8/9,9/10 in DVB-S2

MPEG transport Stream A/V Decoding
Demultiplex According to ISO/IEC 13818-1
Input syream Max. 90Mbit/s
Aspect Ratio 4:3, 16:9
Video Resolution 1920 x 1080
Audio Decoding MPEG Layer l & ll , MPEG-4 AAC+
Audio Mode Single Channel /Dual Channel, Stereo, Joint Stereo
Audio Sampling Frequency up to 192KHz

Microprocessor & Memories
Main Processor Trinity(ARM926)
CPU Clock 280MIPS
Flash Memory 8 Mbyte
SDRAM 160 Mbyte
EEPROM 32 Kbit

Data port
Connector 9 Pin D-Sub Type
Protocol RS232 Asynchronous
Data Rate Max. 19.2Kbps

RF Modulator
Connector IEC 169-24, Male/ Female
Frequency 470-860MHz (UHF)
Output Channel CH 21-69
TV Standard PAL-B/G,D/K, I,M Selectable

Front Panel
4 Digits LED Channel Number Display
8 keys Power,Channel Down/Up, Volume up/down,Menu,Exit,OK
VFD VFD Display

Rear Panel
IF Input F-type Connector
IF Loopthrough output F-type Connector
6 Phone (Cinch) Video, Audio L, Audio R, YPbPr
Scart TV / VCR <---- This we won't get
S/PDIF Optical
HDMI Type A
S-VHS 4-pin Mini- Din
Modulator F-type
RS232 Serial Port 9 Pin D-Sub Type

Electrical and Mechanical
Input Voltage AC 90-250V, 50/60Hz
Power Consumption Max. 45 Watts
Standby Power Less than 10 Watts
Size(WxHxD) 340x245x65mm
Weight 2.1kg

That's why I believe that they are trying to
fix a real problem and that is not a marketing technique.