New member

Username: Bigfoot1794

Post Number: 1
Registered: Jan-13


I've been able to hook up the xbox by running both an hdmi cable and composite audio cables from the xbox to the receiver then a hdmi cable from the receiver to a hdmi to DVI converter plugged into the monitor. With that the xbox worked perfectly, however when I take the hdmi cable from the xbox and plug it into my video card in my computer I can't get anything to show up but a black screen.

The computer is running Windows 7 Professional 64-bit with service pack 1 and 8 gb of RAM. The video card is an AMD Radeon HD 6670.

I've looked at this post but it didn't seem to help.
http://www.avsforum.com/t/1226539/trouble-connecting-computer-to-av-receiver-via-hdmi
Setting the resolution doesn't change it and the DVI connection isn't analog correct?


If I go to Control Panel - Hardware and Sounds - Sound I get this.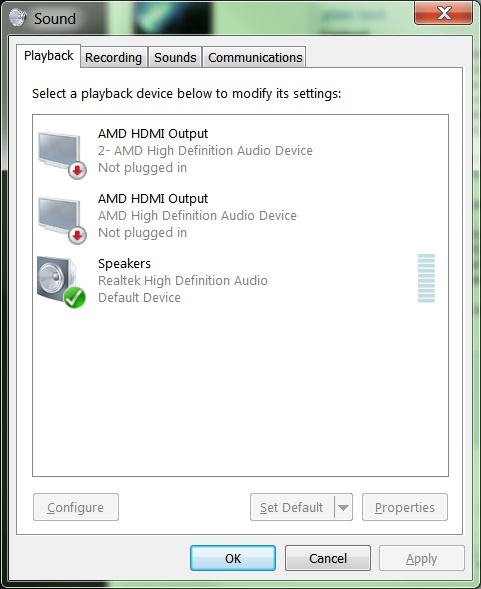 I've tried playing with different settings and inputs on the receiver but I have yet to have any luck.

Sorry for the long post I just want to make sure I'm thorough. Can anyone give me some ideas on what to do to get this working?