Gold Member

Username: Thx_3417

Bournemouth,...

Post Number: 1502
Registered: May-05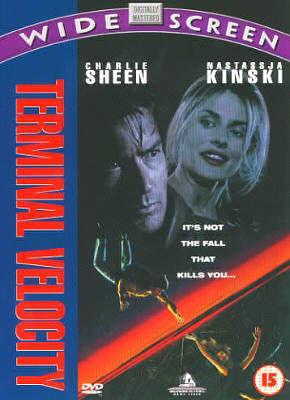 Ditch `Brodie played by (Charlie Sheen) is a no risk no nonsense skydiver in this fast paced action adventure of espionage ex-KGB agents and few cases of stolen gold bullion.

Ditch, takes on a new student at the skydiving school played by (Nastassja Kinski) but all ends in a horrible tragic first time experience, Ditch, is now blamed for careless and the (FAA) want to throw the book at him. But Ditch, is not convinced that she fell accidentally and goes looking for answerers, but the answers are bigger than he expected...

With some great camera work done on the skydiving scenes and some cleaver stunt work all coordinated with great skills, this is one of those pure adrenalin rushes that grabs you from the opening to the final showdown.

Gary C. Bourgeois, Tom Perry and Brad Sherman, have produced a fine Dolby film here with lots of atmospheric and wind sounds surrounds you, there also a low end within the directional sounds one such good moment is where Ditch, skydives into a tunnel the chute gets caught up and the bass that on the centre channel reverberates throughout the whole room has he kicks the inside of the tunnel franticly.

One other part that offers good timbre matching is where a disc cutter is used at an airfield the sound is centred and then pans to screen right then back again to centre, Foley sounds are also clear from Ditch's footsteps in an aircraft hanger, has his feet come to a stop the scrapping sound of the shoes against the soft grains of sands and stones echoes nicely with Lucasfilm (THX).

Score: Joel McNeely, score is fast a little laidback at times but when opened up to full Shawn Murphy, gives it some slam with grunting energy like all his score mixes he mostly records in the (Dolby SR) analogue domain this gives a good recording that (Murphy) confesses is better than most in an article that I read about this sound scoring maverick.

This plays superfine on fully array JBL sound system

Sound mix: Dolby Stereo Digital 5.1 with (split-surrounds)

Picture: 2.35:1 scope

Year of release: 1994

Ratings

Picture 8/10

Sound 10/10

Overall Rating 8/10




Gold Member

Username: Thx_3417

Bournemouth,...

Post Number: 1509
Registered: May-05

Terminal Velocity

Showdown at 120db!

As Ditch, gets to a nice ole fight with (Ben Pinkwater)

With the final showdown coming in at 120dbc! Yes 120dbc! and that's with the audio limiters this is where the villain ends up between some rather BIG blades now only one other film as come this close and that was (Final Approach) where the sound of the SR-71 black birds afterburners kick in with a devastating shudder that hits you in the chest just where JBL can do it right.

This is a cracking film and will go into one of my demo tests especial where that poor ole sausage ends up in the blades at 120dbc!

Now crazy as I am for the bass and the sub bass, I could have easily taken it to 125dbc, but that would be far too much, and without placing the ear plugs in and relaxing back at the back of the room this feeling would soon ware off, has I'll be looking for the next heights peak level that comes close to this wild scene. 120dbc, man I must be losing it, boy oh boy.

Sound system

JBL Control 5 x5 three-screen in current operation with five-screen coming soon to this home cinema.

JBL Control 1 x8, x2 JBL for the sides and x2 for the back surrounds additional x2 for left and right half back surrounds while in standard (split-surround) mode.

Sensitivity 89db frequency response 50Hz 20KHz Power 175watts

Additional surrounds for height, x2 Ariston.

JBL 4645 sub bass Lucasfilm THX approved, rigged with a newer JBL 2242H sub bass driver.

Sensitivity 98db Frequency 30Hz, program power 600watts, enclosure modified response has been noted down to 18Hz.

x2 Marantz 1050 amplifiers left, centre, centre phantom, right

x1 Marantz 1030 amplifier (speaker A left side-surround) (speaker A right side-surround) (speaker B back half left-surround) (speaker B back half right-surround)

Pioneer VSP-200 (centre back surround and height surround) amplifier, this AVR unit also controls the (side surrounds) also there's the sub bass pre-output for enchantment, this is plugged into the audio mixer and is balanced along with the rest of the sub bass frequencies and the LFE.1.

Eltax A-12 R sub bass amplifier for the (JBL 4645)

Audio mix 6 channel, with most films have high outputs in the low frequency range and most unpredictably the LFE.1, well with the audio signal been sent to the mixer and with its twin VU metres I can keep an eye on the output, with 0db representing peak level! Although the levels on the sub bass amplifier have been set for in-room maximum peak playback level of 120db, it's not often that I see levels of such intensity of 120dbc with (Terminal Velocity) 1994 it was a rush.


The scene where the rocket plane or sled ride across the desert is quite a blast!

-How fast this thing go?

-'Bout 350.

You're gonna kill yourself.

Exactly but what a ride! hehehe!