Gold Member

Username: Thx_3417

Bournemouth,...

Post Number: 1494
Registered: May-05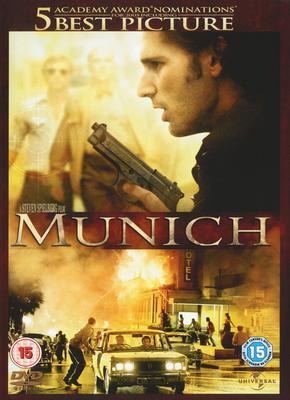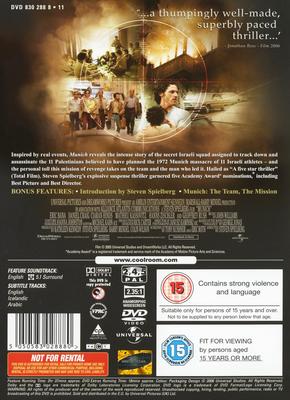 The true accounts of the Munich Olympic Games massacre of 1972 where 11 Israel athletes where murdered. Now squad of a secret assassination team are put together to hunt down the 11 Palestinians who are believed to have planned and carried out the killings.

Munich is a tense thriller, scary at times, thou I think it would take some getting use to as the team go about there mission and assassinating one by one those responsible for the massacre in Munich!

Spielberg as always shown some degree of violence, that's somewhat over top sometimes, since the shark went on a 0rgy feeding frenzy in Jaws in 1974, to the melting faces in Raiders of the Lost Ark 1981, from T-Rex eating a guy sitting on a bog in Jurassic Park 1993, to the horrific accounts of the systematic killing of Jews in Schindler's List 1993.

Munich showed similarities, often with coldness, like the scene where the group gets revenge on a houseboat, now I found that rather disturbing to say the least!

Image

So the what about the picture quality, again filmed in the "super35" process and framed at 2.35:1 scope, the imaging was gritty with a few shots where the camera is over cranked slightly, as seen in Saving Private Ryan, it gives an of edge tone to the visuals and disorientation of the surroundings.

The images remain focused and while mostly dark, Janusz Kaminski again as once again proved he can light a scene, but I wish him and Steven would cut back on the flittering used on the cameras lenses, its been seen now for few of the previous films pasted, still it's a remarkable tone setting.

Sound

Sound was laidback but extremely active throughout gun shots exploding bombs disposing there enemies with devastating impact that reached down to 25Hz and not much else left over expect body parts plastered all over the place, one such explosion that was over the top was the hotel scene, Ben Burtt Richard Hymns and mixers Andy Nelson, scoring mixer Shawn Murphy once again gives John Williams score depth and directional placement.

Film editing was tightly paced; Michael Kahn as now worked for Steven Spielberg for many years and there team effort is indispensable.

Score rating

Picture 9/10

Sound 10/10

Overall 9/10

Starring: Ciaran Hinds, Daniel Craig, Eric Bana, Geoffrey Rush, Hanns Zischler, Mathieu Kassovitz
Director: Steven Spielberg
Genre: Feature Film
Sub Genre: Drama
Release date: 12 June 2006
Format: DVD
Video system: PAL

Language: English
No. of disks: 1
Producer: Barry Mendel, Colin Wilson, Kathleen Kennedy, Steven Spielberg
Sound format: Dolby Digital 5.1, Surround Sound
Catalogue number: 8302888

Aspect ratio: 2.35:1 - Anamorphic Widescreen
DVD special features
Introduction by Steven Spielberg.
Munich: The Team, The Mission.