Gold Member

Username: Thx_3417

Post Number: 1387
Registered: May-05


by Ashley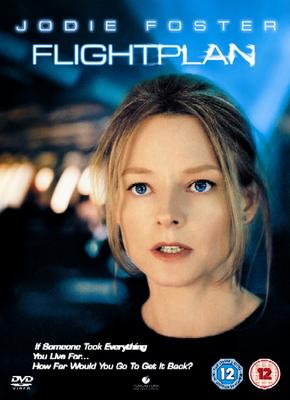 "This is your captain specking will all passengers please turn off all mobile phones as we are about to enter are Flight Plan' procedures."

Kyle Pratt played by (Jodie Foster) along with her daughter Julia are flying to New York with her husband's coffin, after a fatal accident in Berlin. A few hours into the fight, and after falling a sleep she awakes to discover her daughter missing?

Where could a little six year old girl go to on a sealed passenger airliner, after a frantic search, she pleads to the captain to help her look with a more thorough search from top to bottom and from front to back, but still no sign of Julia, did she imagine she boarded the airliner, is she distorted, after the captain played by (Sean Bean) informs her that her daughter Julia is dead, Kyle knows her daughter did board with her.

So I'd leave you now to decide, there is no spoilers hear, just a mystery, a mystery with twist that will present it's self during mid flight.

I hope you do you enjoined this pre-flight plan.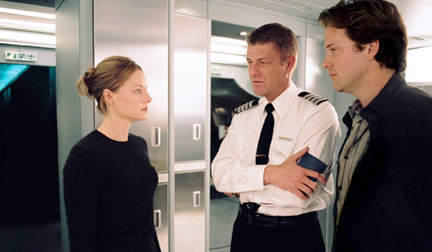 Image

The image is framed in the 2.35:1 aspect ration, but with some shots where the camera is look directly into bright light scores, it usually creates an olive shape, which doesn't happen hear, so the film must have been filmed in the Super 35 format, but still the use of camera movement has been done with very skilfully technique in tight areas of the interior shots of the airliner. Very little in the way of over the top GGI, and looking at doesn't give the impression it's a visual effects film.

Sound

Again Re-Recording Mixers, "Michael Minkler" & "Myron Nettinga," of "Black Hawk Down" have produced a clear six-track Dolby Stereo Digital mix, with sounds moving in and out of each other, some overlapping the other, cabin doors open and close to left and right, and in-between the fronts and backs, (more on this one later) but the mixers always keep this focused with forward attention, little use of the (Baby Boom) LFE.1 was used hear, most of it was placed in the centre channel with some good Foley work, footsteps that can be felt passengers walk around, with "James Horner's" less than dramatic highs that I have experienced in most of his previous scores, this one was rather laidback, tension was only called for when needed

Scoring mixer "Simon Rhodes" kept the engineering of the music placed with directional cues and some chilling highs in the strings, and bass rhythms are felt within these elements, which should have no trouble in the playback in good home cinema.

Conclusion

Worth the value of just £14,84 at ASDA store, worth of a second viewing.

Ratings

Image
9/10

Sound
9/10