Gold Member

Username: Thx_3417

Post Number: 1378
Registered: May-05


By Ashley C' THX 3417


Rain thundering and lightening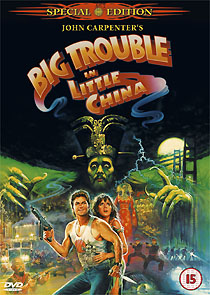 Just realised that "Big Trouble in Little China" is 20 years old, boy time does fly, and settling down with a dose of Chinese black magic the pillows come tumbling down around your ears, with guys flying around on wires two a miss girl and a truck, oh and $1129 dollars too.

Being a John Carpenter fan for some 30 years now I guess, thou his films have a darkness to them with not much cheery happiness in them as most of the characters ether end up being bumped off, its not the case with "Big Trouble in Little China" its got some tongue n cheek mixed into this action packed colourful film, with strong bright colours that standout very well for a film that's two decades old now, visual effects by Richard Edlund's EEG "Entertainment Effects Group" where most of their work is photochemical and shot on 65mm.

The story is about a crippled old one thousand year old Chinese man, with incredible powers looks for immortality and this can be only achieved by sacrificing a Chinese girl with green eyes.

This two disc DVD is packed with extras deleted scenes interviews with Richard Edlund, 3 trailers music video, extending ending, and lots more.


The main feature features a laughable audio commentary by John Carpenter and Kurt Russell, man are these two good together, after working together for many years, Elvis, Escape From New York, The Thing, Escape From L.A., man listening Kurt, boy this guy must be on laughing gas or something along those lines.




The Dolby Stereo mix on this film is close to the 70mm road show realise, the interior shots of Jack Burton's truck sound all around you from the main left and right, while dialogue is ADR and remains very focused with intelligibility, thunder sounds weaponry effects all panning from left to right with some sounds positioned in the centre, surrounds are monaural on this mix, which are used effectively with effects and certain musical moments.

"Baby Boom" when it comes in really rumbles the room deeply down to 40Hz. "It's all in the reflexes."