Gold Member

Username: Thx_3417

Post Number: 1362
Registered: May-05


By Ashley C' THX 3417


Lump in the throat.

How many films would you say you have that give you that lump in the throat, how many 5, 8, 15 films how many?

These are emotional cues in the musical soundtrack cues that say this is a happy moment, a sad moment, a frightening moment, or a joyful moment, and the lump in the throat is induced, along with a few tears, yeah break out the tissues, it's a weepy flick, or it may just place a huge smile on your face instead, so what really curses this emotion, I doubt it's very much its the Dolby Stereo Digital 5.1, thou there are a few mono films that do this as well.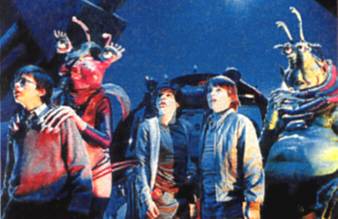 Jerry Goldsmiths' score for "Explorers" chapter 6, as some rhythmic sting movement, with crickets in the background and the score slowly building up, it's this that stirs the emotional senses and tells us this going to be a fun moment, as the explorers take to the air in there craft, and Jerry's' score heightening the feeling of the story, while sound effects are placed at a lower level for a brief while, this lets the music take over in the mix.

Emotions run high.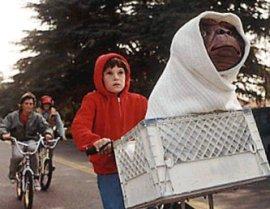 By far the highest emotional film still to this date as got "E.T". its got the lot, boy, this overcomes me, with emotion, the scene where Elliot realises all the frogs, and the blond girl screaming, with the scene cutting back to his home where E.T. is watching the TV, and can sense Elliot's emotions, and the music playing over the TV with that tiny sound, suddenly grows to a bigger and fuller dynamic in the centre, left and right, and split-surrounds, over the whole 5.0 with power feel to it, really works, no matter how many times I've seen this film, I'd never grow old.

The .1 channel at that moment is not active, but theirs plenty of low end in the fronts and surrounds to, bring a tear of joy for Elliot. Then you chuckle slightly, as all those darn frogs leaping around below the girls' shoes.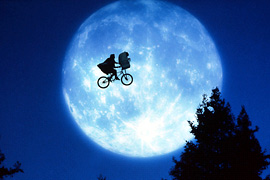 Chapter 13 is really over the moon, where Elliot' gets a real eyeful sight over the trees, then realizing of course, the power the majesty of his little friend, is just too much to let go from.

Chapter 18 to 20, is an adrenalin rush or what, this is cinema at its best, and the whole orchestra as been unleashed, with strings horns harps bass, everything is playing this grand showdown to a magical high, this not just a kids film, it's for all ages young, old and the young at heart and I'll defy anyone that doesn't like this, totally magic.




Mozart's' (K.6220) opens "Out of Africa" with dream like visuals, over a hazed African morning, the original score for which "John Barry" wrote and conducted for this marvellous score which is in every right to receive the Oscar for best score 1985, it fits the story and the characters performing around this wonderful scenery, with strings harp flute, blowing gently then blows you though the back wall as the title "Out of Africa" comes on the screen, I must "John Barry" is very contemporary composer, his British if you never have guessed it, and as scored many of the "James Bond" films his carer spans decades, and with a very unique signature tone.

Chapter 14 is a beautiful moment in the film, and the photography is just splendid, with a heavenly choir hovering overheard which takes its place within the score, very well, this really gives it shear power and you can forget about all Arnie' flicks with guns and explosions, this as just about the same amount of power in it.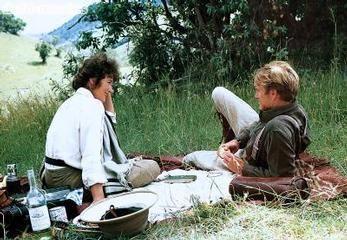 So there it is, with some of the films that I have revisited early Sunday evening, with emotions running high, it was a good feeling, and it seams more clearer to me now, so let's see which films give you gives you that lump in the throat now shall we.



E.T. the Extra-Terrestrial Dolby Digital 5.1-EX SS
Saving Private Ryan Dolby Digital 5.1 SS
Always Dolby Stereo Digital 4.1 MS
Close Encounters of the Third Kind Dolby Stereo Digital 5.1 MS
Platoon Dolby Digital 5.1 MS
Ghost Dolby Stereo Digital 5.1 MS
Glory Dolby Stereo Digital 5.1 SS
Cocoon Dolby Digital 4.1 MS
Breaveheart Dolby Digital 5.1 SS
Titanic Dolby Digital 5.1 SS
Forrest Gump Dolby Digital 5.1 SS
Alive Dolby Digital 5.1 SS
Explorers Dolby Digital 5.1 SS
Out of Africa Dolby Digital 5.1 SS
Dragonheart dts5.1 SS
The Wizard of Oz Dolby Digital 5.1 SS
Casablanca mono 1.0
Cast Away Dolby Digital 5.1-EX