Moderator

Username: Admin

Post Number: 8483
Registered: Dec-03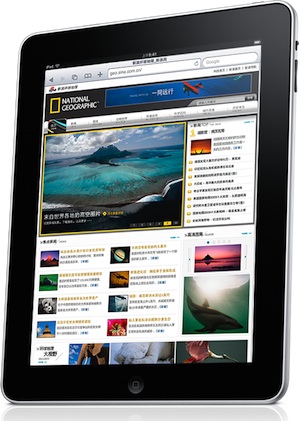 Apple® today announced that the Wi-Fi models of its iPad™ will be available to customers in China from Apple Retail Stores, and select Apple Authorized Resellers, on Friday, September 17 starting at 10:00 a.m.

Apple Retail Stores will offer a free Personal Setup service to every customer who buys an iPad at the store, helping them customize their new iPad by setting up their email, loading their favorite apps from the App Store℠, and more. Apple Retail Stores in China are also hosting special iPad workshops to help customers learn more about this magical new product.

Pricing & Availability
iPad Wi-Fi models in China will be available for a suggested retail price of CNY3988 for 16GB, CNY4788 for 32GB and CNY5588 for 64GB. iPad will be sold in China through Apple's Retail Stores, and select Apple Authorized Resellers.

iPad will roll out to many more countries later this year and Apple will announce availability and local pricing for these additional countries at a later date.

For more information please visit www.apple.com.cn.