Gold Member

Username: Thx_3417

Bournemouth ...

Post Number: 2850
Registered: May-05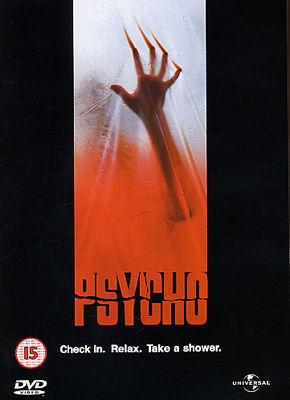 "Psycho 98" pulsing rhythmic richness of sound

Just picked up a replacement region 2 DVD of the Gus Van Sant, remake Psycho 98, the imagining looks to be about the same and the sound mix, truly gripping from the open beat of the classic Bernard Herrmann's score that Danny Elfman redid for this in pulsing rhythmic richness that moves from across the fronts and the split-surrounds that immerses you effortlessly.

Image: Framed in the W/S 1.85:1 aspect ratio, fits the size of the films story, with tight chilling felling. Colours look slightly de-saturated muted with the odd occasion of some stronger colours, brightness is sharp darkly lit scenes are visible, in chapter 15 where Lila and Sam are searching the rooms, and the bathroom as very bright halo effect that gives it a an eeriness, an off edge style as this is a edgy psychological thriller.

Sound: The variances in levels of the soundtrack, everything from the ADR dialogue though to sound effects and the swelling score that moves around the room with a good loudspeaker placement. The blending of all these sound elements have superb quality. As the film moves closely to the end, doors closing around you and above you as Norman, franticly looks around the house. With Lila, finally making a terrifying discovery in the fruit cellar, with birds fluttering and tweeting from front and back, where it kinder places the viewer in the middle of the scene.

"First time I ever saw the customer high-pressure the salesman"
Charlie the Car Dealer, Psycho 98


LFE.1 is sparingly used, most of the low end is covered via the fronts, with a bit of extra sub bass extension from the additional sub bass, where the second sub bass covers LFE.1, it's more of a neutral sound, it shouldn't go over the top, the idea is to have as much naturalness as possible, it's up to the mixers how the sounds should be reproduced, and this one does it with texture of rich colourful sounds.

In a word: Thou this may not be everyone's cup of tea it is very stylistic for a remake, that fits the genre very well. Still there's no substance for the original.

Extras: "Psychopath" documentary, and audio commentary session, plus trailer and lots more.

Technical details

Certificate: 15

Region 2

Aspect ratio: W/S 1.85:1 Panavision (anamorphic enhanced)

Colour: Deluxe

Cinema sound realise: 35mm Dolby Stereo (SR-D) dts, SDDS

DVD sound realise: Dolby 5.1 with (split-surrounds)

Year of realise: 1998

DVD year of realise: 1999

Ratings

Picture 9/10

Sound 10/10

Overall rating 9/10

Presentational playback

Fader: 0db THX reference level

Sound system: JBL

Sound indicator: Dolby 5.1

Maximum loudness: 105dbc!