Gold Member

Username: Thx_3417

Bournemouth ...

Post Number: 2746
Registered: May-05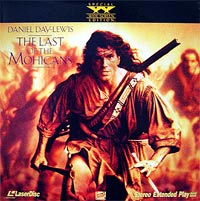 Heavy low end! How many of you have played this film then? I've just been running the two different versions that I have Fox NTSC Laserdisc which has a marginally good low end sub bass extension over the three-screen.

The region 2 DVD Holy smokes this was just pulverising, the sub bass extension went a lot lower and the LFE.1 that is played exclusively via the JBL 4645 was like being at the UCI High Wycombe cinema. I've heard the rumours from one projectionist who worked there many years ago, said the audience was raving about the THX presentation of The Last of the Mohicans for weeks! Having only attending one THX presentation there two years earlier for "Arachnophobia" which was VERY LOW AND IN YOU FACE! DEEP!

I could only laugh on the phone when talking to the projectionist, but after seeing that the Empire is back to her sounding glory which is the Holy Grail of cinema presentation within the United Kingdom. Looks like it's going to get a lot of attention again just like it did around 1989!

So the score alone on this film by Randy Edelman and Trevor Jones, is raises the pulse high, percussion of the instrumental just kicks with a deep rhythmic quivering shudder that vibrates the whole room, I could feel the lows shacking my face, yes it was VERY DEEP! Up to 110dbC weighting! I was tempted to take it to 115dbC but not without earplugs! As my mind is only telling my body I like to feel more pressure over my body!

Lows go down to 25Hz with variables around 40Hz and 63Hz, it's always handy to have an SPL db metre at hand to see where the sound stands that is for overall performance quality and safety as well.

So is there anything else that comes this close in you're Laserdisc or DVD collection, chances are I have those films and if don't chances are I might buy them.