Gold Member

Username: Thx_3417

Bournemouth,...

Post Number: 1571
Registered: May-05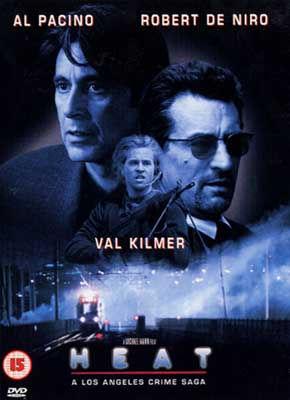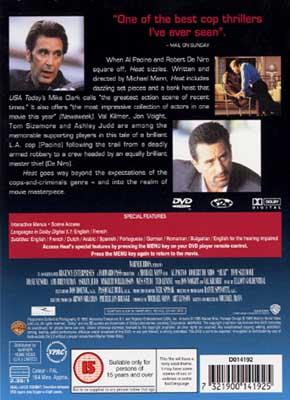 Effective sound usage and weaponry effects
By Andy

Heat is based on Michael Mann's L.A. Takedown with a similar storyline as the first one Michel Mann has only taken this version many steps further, perfecting into a great film hailed by most critics as one of the best cop thrillers from 1990's. With a good line up of characters with Robert De Niro and Al Pacnio face to face on the screen probably for the last time sets the tone and tension perfectly for the upcoming bank heist!

Neil McCauley played by Robert De Niro, takes down scores and his very good at what he does alongside with Chris shiherils played by Val Kilmer a gambling junkie Michel Cheritio who's into real-estate and other things like diamonds, Trejo played by Danny Trejo, is the getaway driver. On one of there latest scores Neil hires Waingro played by Kevin Cage, and all goes terrible wrong with a the brutal execution of the security guards Neil knows he's hired the wrong person for the job, and later decides that Waingro must be eliminated, but during the attempt Waingro makes a hasty escape and now Neil knowing for well that Waingro is still out there.

Van Zant played by William Fichtner whose bonds where stolen in heist at the beginning, now Van Zant wants the crew dead, but after foiled attempt to knock Neil's crew off, it all backfires onto Van Zant, who's now in hiding.

"When these guys walk out of the door of whatever score they're gonna take next...they're gonna have the surprise of a lifetime.
Vincent Hanna. Heat 1995

Image: framed in the scope 2.35:1 anamorphic ratio, with crisp imaging throughout the film, colour saturation is natural on skin tones whether it's brightly lit or one of many dark scenes it stays visible and pleasing. Grain is soft on SONY KX-27 PS 1, on a larger screen grain might

"It's a lot of money. What are you doing? What do you mean, "Forget the money"?"
Van Zant. Heat 1995

"What am I doing? I'm talking to an empty telephone."
Neil McCauley. Heat 1995

"I don't understand"
Van Zant. Heat 1995

'Cause there is dead man on the end of this frigging line."
Neil McCauley. Heat 1995

Sound: Chapter 32 under fire, is notably on of the finest assembly's of sound design committed to film that year, the naturalness of the weaponry and it's recoil action hits you, as if you where holding the M-16 automatic weapons. Hissing and spraying sounds of the bullets flying though the air on the left and rights then arriving a few seconds later on the split-surrounds is very effective, glass shattering is heard with the whip of the camera panning to the left the glass is heard of to the right has if we have turned are heads to the left.

"Go"! With Chris yelling out for the rest of the crew to move after securing a position along the L.A. police's line of fire and pinning them down for a brief moment, the bullets start to tear though one of the police cars bonnet and front windshield, doors and lights with incredible accuracy over the JBL control 5 three-screen, small pieces of metal can be heard falling to the ground. As Neil moves forwards while Chris covers him, Neil takes position to cover Chris, with gunshots and automatic gunfire continuing

Music: Elliot Goldenhal and many other musicians that have contributed to the films project, there are some soft ambient moments like the dinner scene in chapter 29, it's a hunting score, where everything starts to go wrong with and Trejo being followed by the cops, and Neil offering the choice to that Breedan played by Dennis Haysbert, is giving by Neil to chose to decide if he wants to do a job with handling radio scanners and quick with getting the crew out is the right move, with like Moby, God moving over the face of the waters, is a very moving piece that ends the film with satisfying style.

In a word: Set in the world of crime, it's one of the more thoughtful dramas of the mid 1990's. Pure class.

Extras: None

Technical details

Certificate: 15

Region 2

Running time: 164 minutes

Aspect ratio: scope 2.35:1 Panavision (anamorphic enhanced)

Colour: Technicolor

Cinema sound realise: 35mm Dolby Stereo (SR-D) type dts, SDDS

DVD sound realise: Dolby 5.1 with (split-surrounds)

Year of realise: 1995

DVD year of realise: 1999

Ratings

Picture 8/10

Sound 10/10

Overall rating 9/10

Presentational playback

Fader: 0db THX reference level

Sound system: JBL

Sound indicator: Dolby 5.1

Maximum loudness: 105dbc!