Gold Member

Username: Thx_3417

Bournemouth,...

Post Number: 1563
Registered: May-05

Dick Tracy
Wild thunderously raw colours of sound!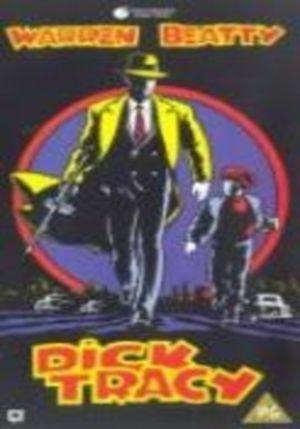 This classic character from comic book has been brought to life by star and director Warren Beatty as Dick Tracy, who's on the trail of Big Boy, played by Al Pacino, one of the underworlds most notorious gangsters and a superb line of cameo appearances by actors like Dustan Hoffman, James Cann and many more all tare the screen up with a blaze of wild richly deep colures by cinematographer Vittorio Storaro, who's given it incredible depth of freshness since Apocalypse Now.

Image: framed in the 1.85:1 W/S ratio the size seems to suit the film, thou I would have liked the anamorphic 2.35:1 ratio better, but still on a very large screen it fits very well. Chapter 13 the shot out has some strong colours of red natural skin tones, bright flares of sparks and flashes from the Tommy guns and smoke that filters in with red. The reddish background with Dick Tracy placed forward in the yellow trench coat and the rapped flashes from the Tommy gun stands out with water cascading and blending in with the red behind is all delightfully visible.





Sound: Dick Tracy was original developed by the Kodak optical radiation company and produced exclusively in CDS Cinema Digital Sound the first true six-track digital surround format now virtually retied. I never had the pleasure of hear CDS sound in the cinema upon its theatrical realise, which is a shame has this DVD version of the films soundtrack encoded in Dolby AC-3, 5.1 with split-surrounds is very loud!

"I say you get behind me we all profit. You challenge me, we all go down. There was one Napoleon one Washington, one me!"
Big boy, Dick Tracy 1990

ARD dialogue is warm it's dialogue that you can feel on the interior scenes in chapter 5 Al Pacino speech to the gang leaders sounds as if he's in the room with me, or it may be the other way around.

Tracy, Tracy, Tracy, Tracy! "Everywhere I turn... It's Tracy, Tracy, Tracy! It's like he's reading my mind."
Big boy, Dick Tracy 1990

Chapter 8 has an interesting look and sound to the whole scene with a nice slit lens Doppler, has Big boy, and Pruneface played by R. G. Armstrong, gaze up towards the light the ambience stillness with a soft air flow and low level street sound coming in from the window. As Big boy and Pruneface grit there teeth in shock know now how there plans where being foiled, the softness of the dripping tea leaking from the room above and Big boy's whisper dialogue "We're being bugged." along with the facial expressions is just so funny and realistic in it's dynamic range. Foley movements of Big boy, kneeling on the table and crouching up and down then raising himself back up, whilst panicking over the situation is so hyper real.

"He does have Tess, but he won't bring her out there. We got gotta go in. Give me that tommy gun, Sam."
Dick Tracy, Dick Tracy 1990

As the gang come bursting though the garage doors, the ripping wood hits you with surprise and what follows is a mirage of machine gun and pistol firing which starts to fill the street, screeching car tyres, ricochets explosions and dialogue all nicely mixed together, with exterior shots briefly cut to the dance floor, and crowds of screaming people ducking for cover under tables. Meanwhile back outside guns continue repeatedly at 108dbc and grandly getting louder with the frequency response, as much as 113dbc lastly as car explodes behind Tracy, that erupts around you at 114dbc. Just as Flattop, gets out of his car that ends in a brilliant standoff at 111dbc! All this wild pounding sound effects extravaganza of a rush that is all compressed down into 1 minute and 16 seconds never gets exhausted from the hail of gunfire that surrounds you! So turn that sub bass up!

"You'll pay for this. You're going to pay for this."
Big boy, Dick Tracy 1990

Al Pacino's voice sound so much like ARD, with a hint of overload, just as he and Tess, start running down the bridge. Thou it's only brief in the ADR mix, and what's more you have to understand that nearly all the dialogue is ADR, and sometimes but not often, actors tend to get a little excited and really give some loud dialogue down into the microphone.

The turning cogs in the water bridge tower is very loud as the turn and grind with stiffness, it's a wonder why we can hear any normal spoken level of dialogue, under all that, but that just cleaver mixing techniques. "A Woman a woman, a woman!" reverberation of Pacino's voice was very threatening and harsh too, as he tosses an oiling can it lands onto the one of the cogs, as he's give Tess a little speech. The low end on the sub bass extension and LFE.1 is felt in your stomach down to 40Hz!

Danny Elfman's high octane score is wonderful mixed into the action by Shawn Murphy, with a Tracy and Big boy fighting it out, and a bullet ricocheting of the centre back surrounds No face, stops the two in there tracks, No face, tries to get Tracy to kill Big boy, but all ends tragically in a gripping showdown, that leaves you breathless and relieved the Kid, calls Tracy, over to the mysterious person as string movement rises up high the mask is removed we're we discover that it was all along Breathless Mahoney, with a softer string moment playing to a bitter sweet ending and with the end credits coming up, a Gershwin musical montage likeness that leaves lump in your throat, The End.

In a word: it's one the top summer hits from 1990, and it still works even today, it's thrillingly delightful magic for the whole family.

Dick Tracy is a register trade mark of Tribune Media Services, Inc.

One odf the best grossing films from the early 1990's

Extras: None

Oscar nominations: Visual effects, Sound effects editing, Sound, Cinematography,

Technical details

Certificate: PG

Region 2

Aspect ratio: W/S 1.85:1 Panavision (anamorphic enhanced)

Colour: Technicolor

Cinema sound realise: 35mm CDS Cinema Digital Sound, Dolby Stereo (SR) type

Todd A-O/Glen Glenn studios

Re-recording mixers: Chris Jenkins, David E. Campbell, C.A.S. D.M. Hemphill Steve Pederson Paul Sharpe

Score recorded by Dennis Sands at Columbia studios
Score mixed by Shawn Murphy at CBS television city

DVD sound realise: Dolby 5.1 with (split-surrounds)

Year of realise: 1990

DVD year of realise: 2001

Ratings

Picture 9/10

Sound 10/10

Overall rating 9/10

Presentational playback

Fader: 0db THX reference level

Sound system: JBL

Sound indicator: Dolby 5.1

Maximum loudness: 114dbc!