Gold Member

Username: Thx_3417

Bournemouth,...

Post Number: 1484
Registered: May-05





This as been on my mind now for many years, and after leaving the cinema, I didn't have much time to talk to anyone else, about the THX experience, so with this thread, maybe there'll be a few hear, if not more than a few, some of you may have attended the same cinema as I have, or the next person beside you? So hears a few basic questions.





What is the best, THX presentations that you have seen and heard over the years from the 35mm to the 70mm Road Show?

Describe in the best detail that you can, on how the effect of the Lucasfilm THX sound system, what did it sound like and feel like to you?

Also the same film that you have seen in the cinema, does it come close, with Home THX sound system, by that I mean from the theatrical THX presentation, to the Home THX presentation?

Or have you made any special modifications, to get it as more exact sounding as possible, with the Home THX sound system.



Films that I have seen projected and presented in 35mm/70mm Dolby Stereo / THX

I'll go into detail about each film as this thread goes along, as well as hearing what you have to say about your experience at the cinema with the best sound around.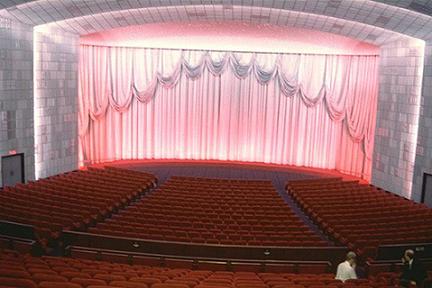 Indiana Jones and the Last Crusade 70mm blow-up, Dolby Stereo A type, with split-surrounds / THX sound system / Empire Leicester Square, September 1989

Star Trek the Motion Picture 1979, 35mm scope 2.35:1 / Dolby Stereo A type / THX sound system / Empire Leicester Square, October 1989

Star Trek II the Wrath of Khan 1982, 70mm 2.2:1 Dolby Stereo A type Baby Boom / THX sound system / Empire Leicester Square, October 1989

Star Trek III the Search for Spock 1984, 70mm 2.2:1 / Dolby Stereo A type / THX sound system with split-surrounds / Empire Leicester Square, October 1989

Star Trek IV the Voyage Home 1986, 70mm 2.2:1 / Dolby Stereo SR type with split-surrounds / THX sound system / Empire Leicester Square, October 1989

Star Trek V the Final Frontier 1989, 70mm 2.2:1 / Dolby Stereo SR type with split-surrounds / THX sound system / Empire Leicester Square, October 1989

Arachnophobia 1989, 35mm W/S 1.85:1 / Dolby Stereo SR type / THX sound system / High Wycombe, January UCI 6

Cape Fear 1991, 35mm scope 2.35:1 / Dolby Stereo SR type / THX sound system / Empire Leicester Square, March 1991

Star Trek VI the Undiscovered Country 1991, 70mm 2.2:1 / Dolby Stereo SR type with split-surrounds / THX sound system / Empire Leicester Square, February 1992

Maverick 1992, 35mm scope 2.35:1 / Dolby Stereo SR type / THX sound system / Warner West End month? 1992

Alive 1993, 35mm W/S 1.85:1 / Dolby Stereo SR-D type / THX sound system / Empire Leicester Square, May 1993

Time Cop 1994, 35mm scope 2.35:1 / dts sound / THX sound system / Empire Leicester Square, February 1995