Sony Unveils Latest Walkman Phone Set to Delight Music Lovers on the Go
Sony Ericsson today unveiled the latest addition to its Walkman phone portfolio, along with new accessories. The W380 Walkman phone is a stylish new offering packed with features sure to set music lovers' pulses racing.
For the music fan on the move, the W380 Walkman phone combines a unique clamshell design with all the music credibility users expect from Sony Ericsson's Walkman phones. The phone packs in innovative features, including Gesture Control, that allow users to mute calls with a wave of their hand. There is also an external display that comes to life only when you need it, to show the name of a music track or to let you know who is calling.
"With the W380, we address the needs of young, fashion-conscious music lovers," said Ben Padley, Head of Music Marketing at Sony Ericsson. "The W380 combines Sony Ericsson's undeniable expertise in mobile communications and mobile music to stunning effect."
Sony Ericsson W380 Walkman phone
Walkman controls on top – see what's playing and manage your music without even opening the phone
Gesture Control – mute calls or silence the alarm with a wave of your hand
TrackID™ – record a clip from the radio and identify the song, singer and album instantly.
Hear it, Name it, Play it, Get it
The W380 Walkman phone comes complete with Media Manager PC software that lets you easily transfer your music, photos and videos between your computer and phone. Simply point, click and drag your music files from your computer to your phone – the software automatically converts your music to the right format.
Store hours of your favorite music (up to 271 songs*) on the W380's 512 MB Memory Stick Micro™ (M2™) or tune in to your favorite FM radio station.
Hear a song on the radio you don't recognize but really like? Use the W380's TrackID™ feature to tag a clip from the phone's radio (or any external source) and find out instantly who sings it, what it's called and which album it's from. The TrackID™ functionality is one of the phone's most popular features. Latest figures show that every second, someone, somewhere, is using TrackID™ to identify a song they love.
Take it to the top
The W380 Walkman phone brings your music to the surface of the phone, allowing you to control what you're listening to without needing to open the phone. Skip forward or backwards between tracks or pause the music effortlessly. One-touch buttons on the top of the phone light up when the Walkman player is switched on and a hidden display comes to life, providing track information at a glance.
When not in use, the W380 Walkman phone looks discreet and laid-back from the outside. But as soon as you receive a call or play music, it comes alive. Choose different light effects for different callers, and see your music 'dance' when the phone's lights match the beat of your favorite song.
Keep your hands off!
Mute your phone with a wave of your hand. Or snooze the alarm if you're lying in bed. The W380's Gesture Control feature allows true 'handsfree' handling of your calls for the first time – show it off to your friends!
The W380 is a GSM/EDGE/GPRS 850/1800/1900 clamshell phone and will be available in Q1 2008.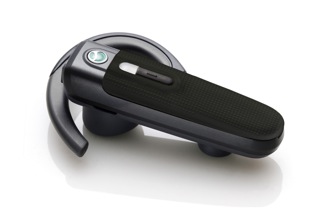 Sony Ericsson Bluetooth™ Headset HBH-PV703
You can also make the most of the W380's Bluetooth™ technology with the compact new Bluetooth™ Headset HBH-PV703.
With a talk time of up to 10 hours, a standby time of up to 350 hours the HBH-PV703 can keep going for as long as you can talk!
The HBH-PV703 has features such as last number redial, letting you easily handle calls whenever you need
The powerful HBH-PV703 offers up to a remarkable 10 hours talk time and up to 350 hours standby time.
The HBH-PV703 automatically connects via Bluetooth™ to select phones using Sony Ericsson's Auto Pairing feature. All you need to do after charging it is activate Bluetooth™ in your phone. No need to try and recall pin codes – and with Bluetooth™ 2.0 + EDR – no compromise on security.
Weighing a mere 14 g/ 0.49 oz., the HBH-PV703 is light enough to wear comfortably all day. Manage your calls from your headset with its built-in answer / end call, last number redial, and volume buttons.
The Bluetooth™ Headset HBH-PV703 will come in grey or black and will be available in selected markets from Q1 2008.
Music without wires
Need to provide the music for a party on the spur of the moment? No problem. As well as their own internal stereo speakers, the W380 is also fully compatible with a range of the latest Sony Ericsson music accessories, including the Portable Bluetooth™ Speaker MBS-100. Plus you can enjoy your music discretely when in public by choosing the Stereo Bluetooth™ Headset HBH-DS200 or Stereo Bluetooth™ Headset HBH-DS220 to wirelessly stream music from your phone, both available now.
* assumes AAC+ encoded files.
W380 at a glance:
Music and Entertainment 512 MB M2™ memory stick
Walkman player FM radio with RDS TrackID™ Media Manager Software
Bluetooth™ stereo (A2DP)
Stereo headset
MP3/AAC/AAC+
3D games
Mega Bass™
Music tones (MP3/AAC)
Polyphonic ringtones
Java
Video streaming
Video viewing
Camera
1.3 megapixel camera
4x digital zoom
Communication & Messaging
RSS feeds
WAP 2.0 XHTML
Speakerphone
Vibrating alert
Email
Picture messaging (MMS)
Predictive text input
Sound recorder
Text messaging (SMS)
Connectivity
Bluetooth™ technology
Modem
Synchronization
USB mass storage
USB support
Organizer
Flight Mode
Alarm clock
Calculator
Calendar
Notes
Phone book
Stopwatch
Tasks
Timer
Accessories (In-Box)
Battery
Charger
USB cable
Stereo Portable Handsfree
512MB Memory Stick Micro™ (M2™)
Sony Ericsson PC Suite
Media Manager content transfer software
Optional Accessories
Stereo Portable Handsfree HPM-83 – Street-style neck band headset with superior audio performance.
Portable Speakers – MPS-70 – Small yet powerful speakers that fit in your pocket.
Facts and Figures
Size: 92 x 49 x 16 mm
Weight: 100 grams
Colors: Electric Purple / Magnetic Grey
Screen: 262,144 color TFT
Resolution: 176 x 220 pixels
Size: 1.9 inches
External screen: OLED
Resolution: 36 x 128
Phone memory: Up to 14 MB
Memory Stick Micro™ (M2™) support
Talk time: Up to 7 hrs
Standby time: Up to 300 hrs
Availability and versions Networks:
W380a: GSM/GPRS/EDGE 850/1800/1900
Available in Q1 2008.
Legal Information
Facts and features may vary depending on local variant.
Talk and standby times are affected by network preferences, type of SIM card, connected accessories and various activities e.g. games. Kit contents and color options may differ from market to market. The full range of accessories may not be available in every market.
Any product features, specifications or statements in this document that are not historical facts are forward-looking and involve risks and uncertainties. Actual product features, specifications or forward-looking statements are subject to change.
Compatible wireless service required for some features. Additional charges may apply. See service provider and rate plan brochure for details.
(C) 2007 Sony Ericsson Mobile Communications (USA) Inc. All rights reserved.
The Liquid Identity logo, and TrackID are trademarks or registered trademarks of Sony Ericsson Mobile Communications AB. Sony, Walkman and the Walkman logo, Memory Stick and M2 are trademarks or registered trademarks of Sony Corporation.
Ericsson is the trademark or registered trademark of Telefonaktiebolaget LM Ericsson.
TrackID and Media Manager are powered by Gracenote Mobile MusicID. Gracenote and Gracenote Mobile MusicID are trademarks of Gracenote, Inc.
Bluetooth is a trademark or registered trademark of Bluetooth SIG Inc.
Picture blogging and video blogging are powered by Blogger. Blogger is a trademark or registered trademark of Google Inc. Google is a trademark or registered trademark of Google Inc.
Java and all Java-based trademarks and logos are trademarks or registered trademarks of Sun Microsystems, Inc.
Microsoft and ActiveSync are trademarks of the Microsoft group of companies.
Other product and company names mentioned herein may be the trademarks of their respective owners.
Any rights not expressly granted herein are reserved.
Subject to change without prior notice.
Sony Ericsson Mobile Communications was established as a 50:50 joint venture by Sony and Ericsson in October 2001, with global corporate functions located in London. The company serves the worldwide communications market with innovative and feature-rich mobile phones, accessories and PC-cards, and it has R&D sites in Europe, Japan, China, India and America. Sony Ericsson is the title sponsor of the Women's Tennis Association, and works with the Association to promote the Sony Ericsson WTA Tour in over 80 cities during the year. For more information, please visit http://www.sonyericsson.com