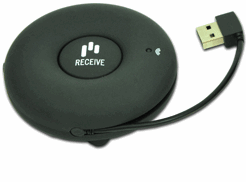 Aperion Audio introduced their second generation of the Aperion Zona Home Audio Link (HAL) System. Like its predecessor, the new HAL System remains an easy way to send music and movie sound wirelessly to audio systems anywhere in the home. The second-generation HAL System also employs the latest wireless technology to provide enhanced fidelity and the capability to stream to an unlimited number of audio systems or Aperion Zona speakers–at no additional cost.
The Aperion Zona HAL System consists of a compact wireless transmitter and receiver. Compatible with virtually every MP3 player, computer, receiver, or other audio device, music fans can connect the Zona HAL via computer USB port or a headphone jack and listen on speakers throughout their homes. For greater flexibility, they can place Aperion Zona Wireless speakers where they desire and let the music follow–even outdoors. Movie buffs can use HAL to connect audio wirelessly from their audio/video receiver to powered subwoofers or surround speakers.
"When we introduced the first generation of HAL two years ago, customers were finally able to connect their computer-based music, existing sound systems and home theater subwoofers wirelessly with robust digital audio quality," says Mike Hopkins, Aperion Audio product development manager. "Then last year, we introduced Zona Wireless Speakers. Pairing HAL to the Zona wireless platform makes it even simpler for music lovers to stream tunes inside and out."
Without losing sound quality, the transmitter can feed an endless number of additional HAL receivers (available separately). Once connected, the system streams uncompressed 16 bit/48 kHz CD-quality audio. HAL also accommodates up to three simultaneous channels, so that at the press of a button users can select any of three "zones" to receive the selected music to different sound systems.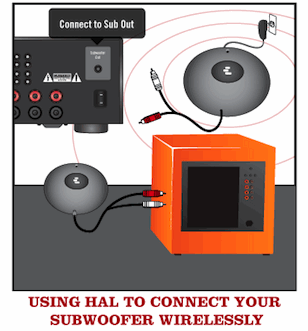 Features
Wirelessly send sound from your computer, home theater, MP3 player, or other audio source to any audio-video receiver or audio system — indoors or outdoors
Connect your powered subwoofer and speaker systems wirelessly to eliminate wire clutter and hum
Add multiple receivers to stream a single audio source to as many rooms as you want, and even outside
Plug and play ease of use, audio input via computer's USB or the Audio-In Jack
One (1)-year limited warranty covers all defects in material and workmanship
Price and Availability
The Aperion Zona HAL System (one transmitter, one receiver) is priced at $149. Additional receivers are available for $70.