Gold Member

Username: John_s

Columbus, Ohio US

Post Number: 2683
Registered: Feb-04


Frank, your JVC TV will not convert the digital audio coming in on its HDMI input to analog and feed it back to the Bose music center on its RCA outputs. This is why you are getting no sound on the Bose when playing a disc in the PS3.

What you need to do is feed the digital audio from the PS3 directly to the Bose music center. Bose has added a single female RCA hookup as a part of the "Audio Input Cable" that came with your surround system. The Audio Input Cable is the cable that connects the music center to the "Acoustimass" bass module. You are supposed to hook up a digital audio signal to this female RCA cable. As you've already found out, the problem is that the PS3 has an optical output only which means that you cannot hook up the PS3's optical directly to the Bose's coax digital. There are converters available that will convert the optical signal from the PS3 to coax for the Bose. They look like this: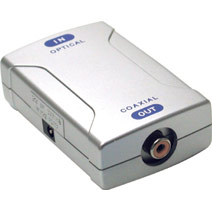 They can be ordered through monoprice:

Optical Toslink to Coaxial (RCA) Digital Audio Converter

You hook the PS3's optical into this adaptor and then you use any good quality RCA cable out from it to the Bose's audio input cable I mentioned earlier. When the Bose senses a digital signal coming in, it will automatically feed it to the speakers.

Next, you are going to have to configure the PS3 to make it send the digital audio signal out through its optical output instead of its HDMI out. You'll have to consult you PS3 manual for that operation. By doing this, I'm pretty sure you'll have audio from the PS3 in the Bose only; the TV's internal speakers will be silent when playing discs in the PS3.

Finally, you are handicapped with this aging Bose unit which supports PCM and Dolby Digital only, and not DTS. This is not a problem with most DVDs, but many Blu-ray discs feature DTS only tracks. You may have to configure the PS3's digital audio output to PCM in order to hear those discs on the Bose. Again, consult your PS3 manual for that. It may be easier to set the PS3's output to PCM and leave it there all the time.

I hope this helps. I know this seems to be a big hassle, but what you're dealing with here is the king (Bose) and the queen (Sony) of incompatibility with other company's products. With other equipment, you wouldn't be having this problem.

.