Loading, please wait...
Uniden 2872-2CK
28-Mile Submersible GMRS/FRS Two-Way Radios Can Be in 3 Feet of Water for 30 Minutes With No Damage
Uniden today is introducing two new waterproof GMRS/FRS two-way radios. Built to the JIS-7 standard, these rugged radios can be submersed in three feet of water for up to 30 minutes. The radios are also designed to float, making them ideal for use in a variety of weather conditions, outdoor activities and environments.
With a maximum range of 28 miles, these models are packed with all the features consumers have come to expect from Uniden's two-way radios. The radios allow for 6,270 channel combinations to ensure secure communications that are free from interference. Features such as Channel Scan, Channel Monitor, large buttons and an over-sized backlit display ensure ease of use in any situation. Uniden's Direct Call feature allows users to call one person in a group without calling everyone, while the innovative Auto Channel Change feature funnels everyone in a user group to a new channel to avoid interference when radio traffic is heavy.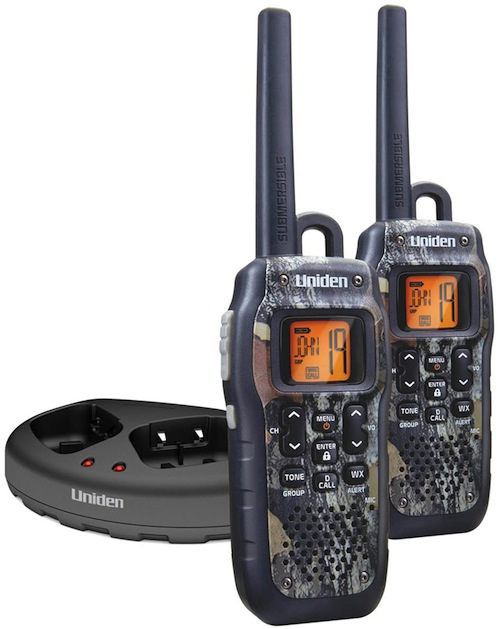 Uniden GMR 2875-2CK
Product Pricing and Availability
Uniden's new floating, waterproof two-way radios will be available at major outdoor retailers, in catalogs and via e-commerce sites beginning November 2009. Product pricing is as follows:
GMR 2872-2CK Value Pack: includes belt clips, rechargeable NiMH battery packs and a dual charging cradle. MSRP $89.99
GMR 2875-2CK: adds vibrating missed call reminder and Mossy Oak New Breakup Camouflage pattern. MSRP $99.99
Features common to both radios:
Submersible to 3 Feet for 30 Minutes (JIS-7)
Up to 28 Miles Range – (Range varies with terrain)
22 Channels (15 GMRS, 7 FRS)
Direct Call – Lets you quickly call one of the people in your group without calling everyone.
Vibrate Reminder
Auto Channel Change – Changes everyone in your group to a new channel to avoid interference.
Mossy Oak New Breakup Camoflage
PowerBoost Key
285 Privacy Settings – 142 Privacy Tones + 143 Group Codes
6,270 Channel Combinations
Backlit LCD Display
Battery Strength Meter
NOAA Weather Channels
Keypad Lock
Channel Scan
Channel Monitor
Roger Beep
Belt Clips Included
Charging Cradle with 2 NiMH Batteries
Silent Mode
Missed Call Indicator
Where to Buy