Loading, please wait...
Lightweight 13-inch, 4.5 pound laptop offers exceptional style and solid performance
The Satellite U500 Series are not just lightweight, highly mobile laptops, they are a fashion statement. With a vivid 13.3-inch high-def diagonal widescreen display, a unique textured finish on the outside and impressive multimedia performance on the inside with dual-core Intel processors, these ultraportables fuse function with style and travel well with great battery life and a starting weight of just 5 pounds. The Satellite U500 Series will be available in four color finishes to match your personal style — Luxe Red, White, Pink and Brown. A touch-screen model is also available. Pricing starts at $698.99 MSRP. Available October 22, 2009.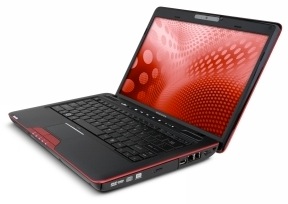 Windows 7
Textured finish in four striking colors
Built-in optical drive and a Intel dual-core processor
HDMI port
Backlit keyboard available
Wireless N Wi-Fi
Webcam
Microphone
Where to Buy
Reviews Around the Web:

toshiba satellite u505