Sony has introduced the Xperia SmartWatch, a wearable device that extends the power of Android smartphones by sending timely and personal information from your smartphone straight to your wrist. A vibration and screen alert notifies you of key events, like an incoming call. It also allows you to read texts and emails as well as receive Facebook and Twitter updates — all from your wrist.
SmartWatch from Sony connects to Android smartphones via Bluetooth giving you the ability to control key functions without removing your smartphone from your pocket or bag. With just a tap, touch, and swipe, SmartWatch turns from a watch displaying the time to a remote information center for your Android smartphone.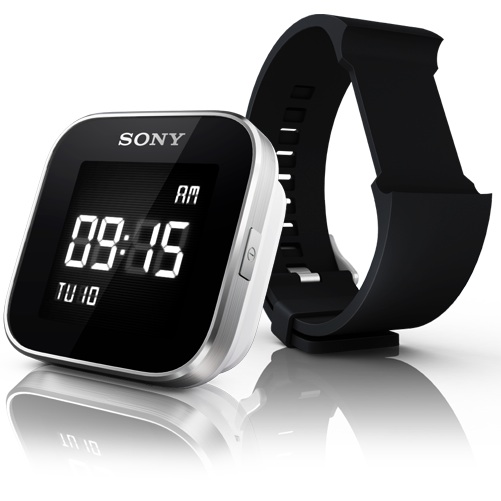 A growing number of apps are available for download through Google Play — including those for social updates, workouts and music — all customized for the 1.3-inch OLED SmartWatch touch screen. While SmartWatch works with these existing apps, Android developers can create apps specifically for the device. SmartWatch works with most Android (2.1 and above) smartphones.
The durable SmartWatch is dust proof and splash proof and comes with a black rubber wristband included in the box. Wristbands in five additional colors are available for purchase. SmartWatch's design includes a rear mounted clip, so it can be removed from the wristband and attached to clothing or a belt.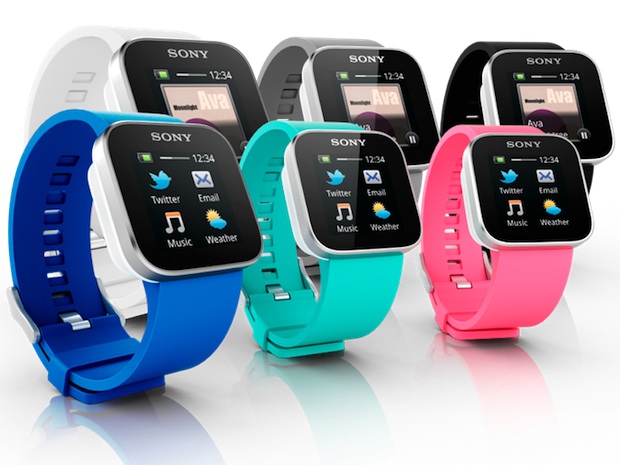 Features
Dimensions: 1.42 x 1.42 x 0.3 in
Weight: 0.55 oz
Display: 1.3″ OLED display, 128 x 128 pixels
Compatibility: Bluetooth 3.0 and Android 2.1 or above
Connectivity: Standard USB charging
Battery life: Up to 4 days
Language support for: English, Spanish, French, Chinese (Traditional), Portuguese, Swedish, Russian, Danish, Polish, Japanese, Czech, German, Modern Greek, Dutch
Notifications: Display notification or vibration
Apps: All events (displays in chronological order), Messaging (SMS/MMS), corporate E-mail (for Sony and Sony Ericsson Android phones), Gmail (for all other Android smartphones) Calendar Notifications, Facebook, Twitter, Music Player, Call handling (call, mute, reject, or answer and send pre-defined SMS), Pre-defined SMS, e.g. missed calls — I'm busy, messaging – call me, email — ok, Battery strength, Find phone, and Weather widget. Plus lots of apps on Android market.
Additional SmartWatch bands available in pink, white, mint, grey and blue
Price and Availability
The Sony Xperia SmartWatch is available now for $149.99. See more Sony Xperia products.

<!-comments-button-->