Loading, please wait...
Polycarbonate and Rubber Hybrid Case with Integrated Kickstand for Widescreen Viewing
Scosche Industries is proud to announce the new kickBACK n5 case for the recently released 5th generation iPod nano.
The kickBACK n5 is a polycarbonate and rubber hybrid cases with an open face design that includes an ultra-clear screen protector. The new case features a provision for the video camera that was recently added to the nano. Like the recently released kickBACK S for the iPhone 3GS, the case features an integrated kickstand for widescreen viewing and traction nubs that provide grip on flat surfaces.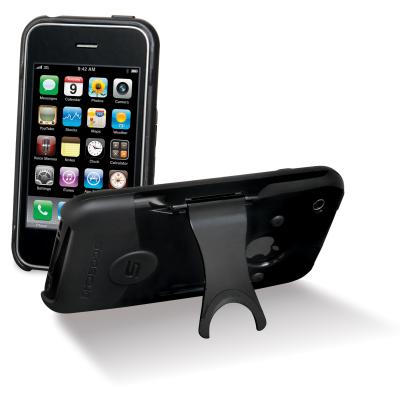 "We pride ourselves at consistently being one of the first accessories manufacturers to market with leading edge products following an iPhone or iPod announcement," said Kas Alves, executive vice president of Scosche Industries. "It's that ability to react quickly without sacrificing quality that has helped us develop necessary accessories like the new kickBACK case."
The kickBACK n5 is offered in clear polycarbonate with black rubber and is priced at $24.99. The switchKASE combo back includes the kickBACK n5 and a black silicone skin and is priced at $29.99. Both are currently for sale at scosche.com and will be available in major retailers this fall.
About Scosche Industries:
Scosche Industries is an award-winning innovator of iPod and iPhone accessories. Scosche is founded on its' commitment to quality, value and customer service. With over 70 patents and countless industry awards it is easy to see that Scosche is consistently at the forefront of technology and innovation. Scosche Industries is the parent company of several distinct brands including: Scosche, REALM, EFX, BlueFusion and Accumat. Founded in 1980, Scosche is still 100% family owned and operated with over 120 great people along side them.
Where to Buy