Loading, please wait...
Unique Interface Designed for Chrysler Vehicles
Oxnard, Calif, (June 6, 2006) — Scosche Industries, a leader in mobile electronics aftermarket accessories, today announced it is now shipping a new CAN (Controller Area Network) bus interface for 2004-up Chrysler/Dodge/Jeep vehicles. This unique product is researched and designed to replace the factory interface when upgrading to an aftermarket head-unit. Typical to many newer vehicles, ACC power is lost when the factory head-unit is removed. Scosche's CAN bus eliminates this problem and provides high-integrity serial data communications bus for real-time control applications
"We are dedicated to the aftermarket and providing quality products to assist seamless installations of aftermarket products and head-units," said Kas Alves, vice president, sales and marketing, Scosche Industries. "Our research and design team continues to develop unique products to help custom installers and dealers and our unique CAN bus interface is no exception."
Scosche's CAN Bus for 2004-up Chrysler/Dodge/Jeep vehicles (#DCCR03SRB) provides 12 volt switched ACC power for an aftermarket head unit, enabling the removal of a factory head unit. The DCCR03SRB also provides accessory power and the convenience of retaining your factory amplifier via data signal.
Vehicle applications for the CAN bus interface include the following:
• 2004-up Dodge Durango
• 2005-up Chrysler 300C
• 2005-up Jeep Grand Cherokee
• 2006-up Dodge Charger
• 2006-up Dodge Ram/Ram Mega Cab
• 2005-up Dodge Magnum
The matching Scosche kit is the CR1286B and matching antennae adapter is the CRAB. All these products including the new Scosche CAN bus interface are available at specialty dealers. The DCCR03SRB retails at $124.99.
For Media Inquiries Only
michelle@msc-pr.com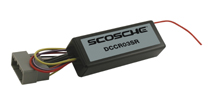 Where to Buy