Loading, please wait...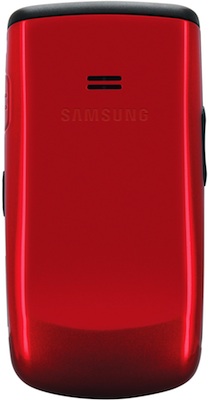 Colorful, slim clamshell design with access to mobile E-mail and Bluetooth capabilities

The Samsung Contour (SCH-r250), available at MetroPCS, features a colorful, slim, clamshell design that comes in bright red and is equipped with an integrated VGA camera, convenient internet access through MetroWEB and offers messaging options such as text messaging (SMS) and multiple messaging (MMS). The Contour comes equipped with Bluetooth Wireless technology, making it ideal for hands-free calling and staying connected while on the go. Contour users can stay organized with the Iron Carousel feature, which offers access to one-touch messaging, one-touch calendar and one-touch speakerphone technology. Users can personalize their Contour with a variety of applications including access to unlimited e-mail, downloadable ringtones, wallpapers, games and other applications.
Key Features
VGA Camera
Colorful, Slim Clamshell Design
Easy-to-Use Interface
Icon Carousel — Featuring — One Touch Messaging, One Touch Calendar and One Touch Speakerphone
Bluetooth Wireless Technology
Metro Applications — Including — MetroWEB® Internet Access, Metro 411 Directory Assistance, MetroBACKUP, mail@metro Unlimited E-mail and MyMetro Account Manager
Text Messaging (SMS), Multimedia Messaging (MMS)
Speakerphone
Voice Commands
Specifications
CDMA 800MhMHz/PCS 1900 MHz, AWS Band 1700/2100 MHz
Dimensions: 1.7″L x .54″W x 4.2″H
Weight: 3.04 ounces
Main Display Type(s) & Resolution: 2.0″ QQVGA TFT, Sub Display: 1.07″ CSTN
Talk Time: Up to 3.3 hours and Standby: 200 hours
Memory (FLASH/RAM): 1G + 512
MSRP: $49
Where to Buy