Loading, please wait...

Android 2.1 Phone with 4-inch Super AMOLED Touchscreen Display, 1 GHz Processor
Samsung will release the Android-powered Samsung SCH-i500, a Galaxy S smartphone on both U.S. Cellular and Cellular South. The U.S. Cellular version will be called the Samsung Mesmerize. The Cellular South version will be called the Samsung Showcase. It will bring users a fully integrated entertainment, messaging and social networking experience packaged in an alluring, streamlined design surrounding a stunning 4-inch Super AMOLED display.
The Samsung SCH-i500 represents a new breed of smartphones powered by the open and innovative Android platform, with full support of Google Mobile Services including Google Search, Google Maps, Gmail, YouTube, Google Talk, Android Market and more. The Showcase features Samsung's Super AMOLED display screen technology, a 1 GHz Samsung Hummingbird Application Processor and Samsung Social Hub, a feature that integrates the user's social networking services, messages, personal and business email, calendars and contacts.
The Samsung Showcase will come preloaded with two Cellular South Original apps — Text CS and Discover Apps. Both of these apps help consumers get quick, easy and convenient answers to questions about their mobile phone, account and the most relevant apps for their device. A third app — Barcode Scanner — enables users to quickly scan a barcode into their Android-powered smartphone and have Google search for that particular item to find reviews, competitive prices and more. The app also can read QR — or Quick Response — data-matrix codes, which can link users to a website, a discount coupon, contact information, calendar appointment or text message.
The SCH-i500 provides a premium viewing experience on its large, brilliant 4-inch display powered by Samsung's Super AMOLED touch screen technology. Super AMOLED technology yields thinner displays, delivering one of the most responsive full-featured smartphones in the industry. Samsung's innovative display technology makes watching movies, viewing videos and playing games come to life like never before, even in bright light and outdoor environments.
In addition, the SCH-i500 features six-axis motion sensing using an accelerometer and geo-magnetic sensors to provide a smooth, fluid gaming experience when the user is tilting the device up or down or panning the phone to the left or right. The SCH-i500's user interface also supports a series of advanced touch screen gesture capabilities including multi-touch pinch, long tap and zoom and vertical and horizontal swiping. This series of versatile gestures provide easier and quicker access to many applications including location-based services, Web browsing and digital photos.
Powering the SCH-i500 is a 1 GHz Samsung Hummingbird Application Processor, which produces amazing 3-D graphics along with faster upload and download times of HD-like multimedia content.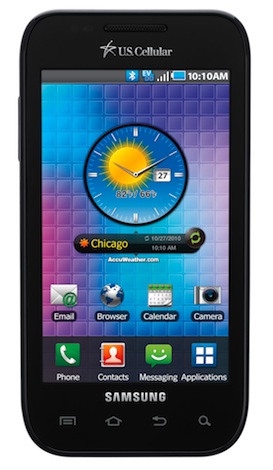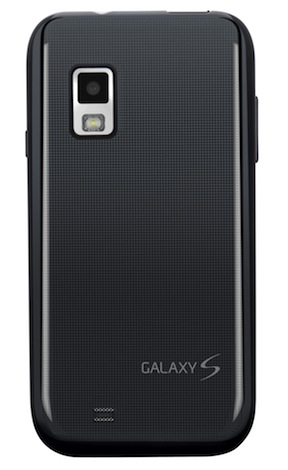 The SCH-i500 smartphone keeps users connected with Samsung's Social Hub, which is built around Messaging and Contacts, both of which initiate the sending and receiving of information, whether it is e-mail, instant messaging, social network updates or SMS messages. Additionally, calendar information from portal calendars, such as Google Calendar, and social networking services are displayed together in one calendar with two-way synchronization. The familiar text messaging experience is enhanced with group messaging and "reply all" functionality for up to 10 contacts, a threaded conversations format, a consolidated inbox, and enhanced multi-media display.
Not just for social networking and messaging, the SCH-i500 truly brings your home and office computer to the palm of your hand with support for push email and integrated calendar services, including Google and Yahoo for consumers and small businesses and ActiveSync for enterprise users. Messaging is simple and easy with the SCH-i500's virtual QWERTY keyboard with Swype technology, which allows users to input text faster and in a more intuitive way with one continuous finger motion across the screen keyboard.
In addition, the SCH-i500 features best-in-class entertainment features, including future access to Samsung Media Hub, a library of video and literary content powered by some of the biggest names in entertainment. The SCH-i500 also features Samsung's All Share application, which enables inter-device connectivity through DLNA (Digital Living Network Alliance), allowing users to send video content wirelessly to other DLNA-enabled devices, such as televisions, monitors and computers, allowing for a rich, interactive entertainment experience.
The SCH-i500 is packed full of features that enhance users' daily life, including a 5.0-megapixel camera/ camcorder with auto-focus and HD video recording (720p), MP3 player, 3.5-millimeter headphone jack and expandable memory for photos, videos and music, up to 32 GB using microSD. Additional key specifications of the Showcase include Wi-Fi (802.11 b/g/n), full HTML browser with multi-touch pinch to zoom, Bluetooth® 3.0 technology, daily briefing widget, which offers instant access to weather, news, stocks, and the calendar and a feeds and updates widget, that lets users get updates from social networking sites instantly.
Price and Availability
Samsung Showcase (Cellular South) will be available in retail locations in time for the holidays.
Samsung Mesmerize (U.S. Cellular) will retail for $199 after an $80 mail-in rebate and will be available October 27.
Where to Buy