Loading, please wait...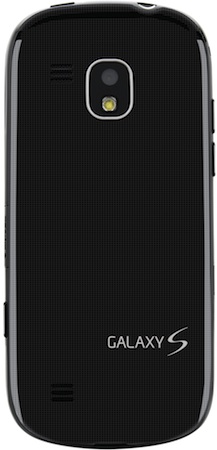 Samsung announced a new Galaxy S smartphone available at Verizon Wireless, the Samsung Continuum (model SCH-i400). The Continuum is the world's first smartphone designed with a dedicated ticker display, which provides users with up-to-the-minute news, sports, finance and social networking updates for maximized multitasking.
The Continuum features two separate but integrated displays: a 3.4-inch touch screen Super AMOLED main display and a customizable 1.8-inch Super AMOLED dedicated ticker display that streams customized information in real time. Additionally, the Continuum is powered by Android 2.1, with support for Google Mobile Services, including Gmail, YouTube, Android Market and more. The Continuum also includes a 1GHz Hummingbird Application Processor, 5-megapixel camera, and multiple entertainment and social networking features.
Key features and specifications:
3.4-inch Super AMOLED Main Touch Screen Display
1.8-inch Interactive Super AMOLED Ticker Display
Grip Sensor
Super AMOLED Screen Technology
Android 2.1 platform
Preloaded with Bing Maps and Bing Search
Full HTML Web browsing capabilities
3G Mobile HotSpot capabilities
Samsung 1GHz Cortex A8 Hummingbird Application Processor
Six-axis sensor
Virtual QWERTY Keyboard Featuring Swype Technology
5.0-megapixel camera/camcorder with Flash
Wi-Fi Connectivity (802.11 b/g/n)
Stereo Bluetooth
Corporate Email
3.5mm headphone jack
8 GB microSD card preinstalled expandable up to 32 GB
Lifestyle features:
V CAST Music with Rhapsody, V CAST Video on Demand, V CAST Song ID, Visual Voice Mail, V CAST Tones, VZ Navigator, Mobile IM, City ID, Bing Search and Maps, and Blockbuster Application
Dedicated ticker displays up-to-the minute news, weather and SNS updates, as well as music player controls and incoming e-mail, IM, and text messages without interrupting the activity on the main display
Samsung's Social Hub — Built around messaging, contacts and calendar sync, which allows users to send and receive information, whether it is e-mail, social network updates or SMS messages
Integrated Calendar information from portal calendars, on Exchange, Google Calendar and SNS, including Facebook
Integrated Contacts syncs with Exchange, Google, Twitter and Facebook — Facebook contacts display in four categories, including Info, History (previous calls and messages), Activities (status updates and notifications on social networking sites), and Media (Facebook profile photos and photo gallery)
AllShare — Enables inter-device connectivity through Digital Living Network Alliance DLNA, so users can send multimedia content wirelessly to other DLNA Certified-enabled devices such as TVs and laptops
Daily Briefing — Instant access to weather, news, stocks and schedules
Write and Go — Quickly jot down an idea and later decide on a format, such as SMS/ MMS, e-mail, calendar or memo, to send or post to popular SNS sites such as Facebook, Twitter and MySpace
Smart Alarm — Natural alarm sound and display automatically illuminates
Weather Clock — Displays current time and weather of the selected city (ability to add and select other cities)
Pricing and availability:
The Samsung Continuum will be available for order starting Nov. 11 and in Verizon Wireless Stores on Nov. 18 for $199.99 after a $100 mail-in rebate with a new two-year customer agreement and data package.
Where to Buy