Pioneer today announced the SP-BS21-LR bookshelf speakers, part of its new speaker line for home theater and music reproduction, designed from the ground up by Pioneer USA's chief speaker engineer, Andrew Jones. The entire line, featuring bookshelf (SP-BS21-LR, SP-BS41-LR), floorstanding (SP-FS51-LR) and center channel (SP-C21) speakers as well as a subwoofer (SW-8), is engineered to deliver exceptional audio performance, whether used as a two channel music system or a full 7.1 channel home theater system.
Features:
Oversized magnets for Powerful Bass
Superior Crossover Design for Full-Spectrum Clarity
Curved Cabinet Construction Designed to Reduce Vibration
1″ Soft Dome Tweeter for Crisp, Accurate High Frequencies
Designed for Both 2-Channel Music and Home theater Applications
Build Quality and Performance
Typical speakers in the entry level price category utilize a low cost, flat-sided style cabinet. The entire Home Theater and Music Speaker line utilizes radio frequency bonded, curved cabinets which provide not only a distinct cosmetic look but a stiffer and stronger structure, resulting in better sound reproduction through reduced cabinet resonance.
Featuring quality components both inside and out, each speaker utilizes flush mounted grills for each driver instead of a single grill for the entire front of the cabinet. Instead of cloth, the speaker grills are made out of metal for better protection. The grills add to the cosmetic appeal of the speaker while improving its durability in both home and retail environments.
Properly Engineered
Most entry level speakers make significant sacrifices in order to reduce cost. One of the most commonly compromised items is the speaker's internal crossover network. Vital to the speaker's overall performance, it splits the full range audio signal into separate frequency bands and sends them to the individual drivers optimized for those bands. The simplest crossover networks often used by other manufacturers consist of a single capacitor and inductor, but this limited, cost-driven design can leave a lot to be desired for the listener.
To improve sound quality, Pioneer's new speaker series uses a sophisticated multi-component crossover that achieves a more accurate frequency division and a more precise re-creation of sound. All speakers in the line also feature gold plated 5-way binding posts that provide superior conductivity and flexible connection methods.
Packaging
A first for Pioneer, the speaker packaging features a Quick Response (QR) Code, a unique barcode which consists of black modules in a square shape on white background. For instant information on the product while at a retail store, consumers can scan the image with a smartphone equipped with a barcode reader app, and will be automatically directed to a YouTube video of Andrew Jones discussing the process and philosophy of the new speaker line. The new packaging also provides additional information on Pioneer's rich audio heritage, proper room setup and is complete with Andrew Jones's signature. The packaging also contains descriptions in English, Spanish and French.
The new Pioneer Home Theater and Music Speaker line is available now for suggested retail prices ranging from $79 to $199.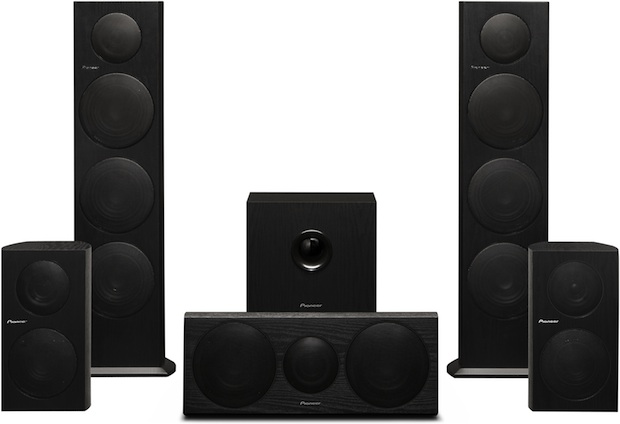 Specifications:
SP-BS21-LR
SP-BS41-LR
SP-FS51-LR
SP-C21
SW-8
Enclosure
Bass-Reflex Bookshelf
Bass-Reflex Bookshelf
Bass-Reflex Floorstander
Bass-Reflex Bookshelf Center
Bass-Reflex
Configuration
2-Way
2-Way
3-Way
2-Way
Subwoofer
Frequency Range
65 Hz- 20 kHz
55 Hz- 20 kHz
45 Hz- 20 kHz
55 Hz- 20 kHz
38 Hz- 150 kHz
Nominal Impedance
6 Ohms
6 Ohms
6 Ohms
6 Ohms
–
Max Input Power
80 Watts
130 Watts
130 Watts
130 Watts
–
Max Output Power
–
–
–
–
100 Watts
Sensitivity (2.83 Volts)
84dB
85dB
87dB
87dB
–
Crossover Frequency
2 kHz
2.5 kHz
2.5 kHz
2.5 kHz
40 Hz – 150 Hz
Variable
Magnetically Shielded
No
No
No
Yes
No
Woofer Size
4″
5 1/4″
3 x 5 1/4″
2 x 5 1/4″
8″
Tweeter Size
1″ Soft Dome
1″ Soft Dome
1″ Soft Dome
1″ Soft Dome
–
Dimensions (WxHxD)
7 1/8″ x 12 5/8″ x 8 1/16″
7 7/8″ x 13 3/4″ x 8 11/16″
7 7/8″ x 31 1/2″ x 8 11/16″
19 7/8″ x 7 x 7/8″x 8 11/16″
12 3/16″ x 14 3/16″ x 12 3/16″
Weight
8 lbs 6 oz
10 lbs 4 oz
22 lbs 4 oz
16 lbs 3 oz
20 lbs 4 oz
SRP
$89.99
$199.99
$199.99
$79.99
$149.99
About Andrew Jones
Andrew Jones has been designing speakers for 30 years and has worked for some of the world's finest loudspeaker companies. As chief engineer at both KEF and Infinity Jones played a crucial role in developing many highly regarded products. Joining Pioneer in 1994 he led a multi-national engineering team to develop many new and innovative speaker products. Since 2001, when he started the development of the remarkable series of TAD home audio speakers, Jones has served the dual roles of director of engineering for TAD as well as chief speaker engineer for Pioneer designing both the best and the best value speaker products.

<!-comments-button-->