Loading, please wait...
Pioneers Core Audio headphone line for 2010 includes the SE-CE11 and SE-CL07 earbuds.
True to Pioneer's product philosophy, the SE-CE11 (MSRP: $19) delivers superior sound quality and comfort to traditional earbuds that come standard with portable music players. They are available in black or white and come with a plastic carrying case. The SE-CL07 (MSRP: $24) is a step up from the SE-CE11 and is available in white, black, blue and pink. All colors also come with four interchangeable ear bud sizes, allowing consumers to customize the fit and look for their unique styles. Both models will be available in September 2010.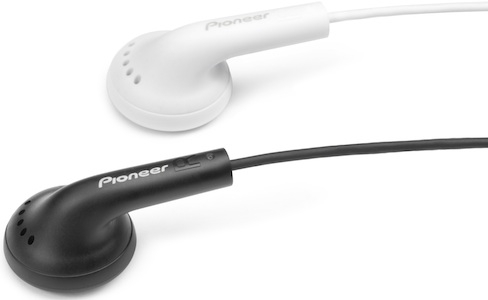 Pioneer 2010 Headphone Comparison
Model
MAP
Type
Driver Diameter
Max Input Power
Sensitivity
Frequency Response
Cord Length
SE-MJ5 oM
$89.99
On-Ear
40 mm
1,500 mW
105 dB
5 Hz – 28 kHz
1.2 m(3.9')
+ 2.0 m (6.6')
SE-MJ71 Steel Wheels
$79.99
On-Ear
40 mm
1,200 mW
105 dB
5 Hz – 28 kHz
1.2 m (3.9')
SE-MJ31 Loop
$69.99
On-Ear
40 mm
1,000 mW
105 dB
8 Hz – 25 kHz
1.2 m (3.9')
SE-MJ21 EQ
$59.99
On-Ear
40 mm
500 mW
103 dB
12 Hz – 22 kHz
1.2 m (3.9')
SE-M290
$44.99
Over-Ear
40 mm
1,200 mW
102 dB
5 Hz – 25 kHz
3.5m (11.5')
SE-CL07
$24.99
Earbud
10 mm
–
100 dB
20 Hz – 20 kHz
1.2 m (3.9')
SE-CE11
$19.99
Earbud
14.6 mm
–
98 dB
20 Hz – 20 kHz
1.2 m (3.9')
Where to Buy