High fidelity multi-room music system fuses breathtaking sound and beautiful design
Olive Media Inc. just introduced a limited designer edition of its high fidelity multi-room music system to its US customers. Already a success in Europe, the new system is wrapped in an elegant snow white enclosure, and silk-screened with two exclusive designs by Karim Rashid. It combines the award-winning Olive 4 music server and the Olive 2 zone player to deliver high fidelity music wirelessly in to up to 10 rooms. Designed to express the individual personality of their owner the new limited edition complements any modern living environment.
"We live in an abundant information world." explains Karim. "All the text, words, sounds, ideas, and imagery are so accessible and democratic that information has defined our time — the information society. But since information and sound is intangible, can it be captured, retained or transformed into visual languages? In the last decade I decided I want to speak about this digital info age — that possibly through decoration, code, pattern, texture, line, composition I can manifest the digits of binary notation and communicate a new form of decoration that is current and aesthetic with new itinerant forms. I am interested in having the Olive 4 speak to us about our new sound landscapes and the spirit of the digital age. The new movement of technographics I have done for Olive is a epistemic landscape that is hypergraphic, hypertrophic, and energetic."
"Olive's industrial design has always lead the way for consumer electronic devices." says Oliver Bergmann, Ph.D., CEO and President of Olive Media Products, Inc. "We design products to fit perfectly into your living environment, not to meet the antiquated conceptions of conventional electronics design. Beautiful form always follows smart functionality. We are honored that Karim Rashid has developed two beautiful design patterns, reflecting the diversity and vibrance of music."
Both the Olive 4 music server and Olive 2 zone player go their own way with regard to industrial design. Featuring a slanted front surface Olive's products allow users to access the high-resolution color touch-screen and buttons more easily. The Olive 4 is also the world's first music server introduced with a touch-screen interface, allowing users to quickly browse and find the right music. A feature with great importance considering that the Olive 4 stores up to 3,000 CDs in lossless quality, and delivers thousands of internet radio stations.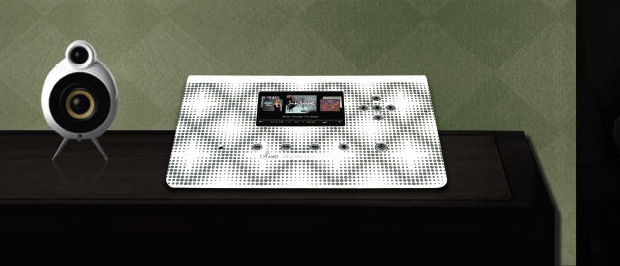 Olive has also put great value on the materials used for its products. Made out of fine-grade aluminum, and custom-built in the USA, the Olive 4 music server and Olive 2 zone player are an elegant alternative to the plasticky world of electronics littering todays living space. Adding a highfidelity analog output stage, high-precision power supply and optimized circuitry Olive's multi-room music system combines beautiful design with breathtaking sound.

Pricing and Availability
The limited edition Olive 4 music server with 1TB of storage is available in the US directly from www.olive.us (1.877.296.5483) for US$1,999, the limited edition Olive 2 zone player is priced at US$799.

About Olive Media Products
Based in San Francisco, Olive brings the ease and accessibility of digital music to the home stereo in high fidelity. Led by a team of music lovers, Olive makes the only Hi-Fi Music Servers and Players that deliver a music experience without compromises. The result of five years of award-winning design based on customer feedback, Olive products allow you to experience all your music in true hi-fi sound quality with easy digital music access and elegant design at a compelling value.

<!-comments-button-->