McIntosh Laboratory announced its flagship home theater preamplifier, the MX151 A/V Control Center, for consumers who want the ultimate reference standard in high-performance audio processing. The MX151, which replaces the MX150, provides the purest, most realistic audio experience possible from all of today's content sources with the most advanced on-board RoomPerfect auto-equalization. It includes assignable balanced input and outputs and a dedicated analog phono section, as well as precision-tuned bass and treble tone controls. The MX151 also features a leading edge video processing engine with HDMI 3D
Dual Zone feature allows you to play different media simultaneously in two separate rooms with independent program selection and control. The vast array of digital and analog inputs can be custom labeled for simplified system operation and matched in volume level for a smooth transition between sources. Assignable balanced input and outputs, an analog phono section, bass and treble controls and optional processing up to 7.1 multi-channel using Dolby Pro Logic IIx or DTS Neo:6 all enhance the two channel audio experience of the MX151.
The MX151's unprecedented flexibility allows custom system design and function for every environment. Control options include traditional IR-remote, web based GUI, and interfacing with all third party control systems. Audio options for up to 12 channels, multiple subwoofers, or bi-amping of speaker systems are built in.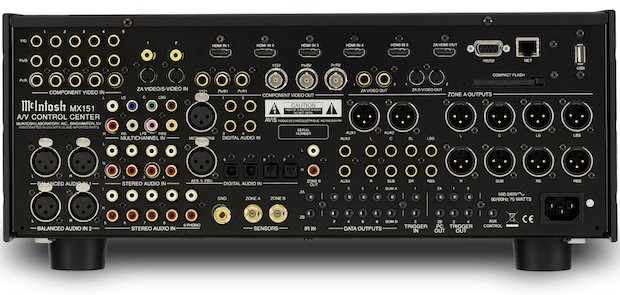 Designed to serve as ultimate-quality "nerve center" of a total home entertainment system the MX151 provides even better audio performance than their just announced MX121 A/V Control Center. However, the higher-end MX151 does not include AirPlay wireless audio streaming, DLNA, or video upscaling even though it's more than double the price. The features in bold below show the differences between the MX121 and MX151.
Features
ULTRA LOW DISTORTION (DSP BYPASS): 0.005%
CHANNEL FORMATS: Stereo, 5.1, 7.1, Stereo Subwoofers
BALANCED INPUT: 2 sets-Stereo
BALANCED OUTPUTS: 7.1, + 2 AUX front channels
UNBALANCED INPUTS: 8 Stereo + Moving Magnet Phono, 7.1 Input
UNBALANCED OUTPUTS: 7.1 + 2 Aux front channels
DIGITAL INPUTS: 4-coax, 4-optical, 1- AES/EBU Balanced
DIGITAL OUTPUT: None
HDMI INPUTS: 5 – With advanced HD audio processing, 3D video pass-through
HDMI OUTPUTS: One – Zone A, with advanced HD audio processing, 3D video pass-through
COMPONENT IN AND OUT: 5 in and 2 out
COMPOSITE/S IN AND OUT: 2 in and 2 out
ADDITIONAL ZONE OUTPUTS: One Stereo: Zone B, Analog audio/video
MAX. # OF AUDIO CHANNELS IN ZONE A: 12
DSP ROOM CORRECTION: RoomPerfect, 1/12 octave
MICROPHONE AND STAND INCLUDED: Yes
ADVANCED CONNECTIONS: Ethernet Web interface GUI, USB Firmware update
NETWORK FEATURES: Ethernet Control and Setup
UNIQUE X-OVER FREQUENCY, EACH SPEAKER: Yes
SPECIAL FEATURES: Up to 121 input capability, Front Stereo Bi-amp + LFE Sub
THIRD PARTY CONTROL: RS232, Web IP, IR Input
TONE CONTROLS: Bass and Treble
OSD OVERLAY ON HDMI OUTPUT: Yes
INPUT-OUTPUT FORMAT INDICATORS: 9 in and 9 out
CONTROL OF MCINTOSH SOURCES: Yes, wired with data cables
VIDEO SCALING: None, transcode only to HDMI
DOLBY PROCESSING: True HD/Digital, EX/ProLogic IIx
DTS PROCESSING: HD Master & High Res. Audio/ES/96/24, Discrete & Matrix6.1, Neo:6
PURE STEREO DSP BYPASS MODE: Yes
WEIGHT: 31 lbs. (14.09kg) net, 55 lbs (25kg) shipping
DIMENSIONS: 17 1/2″ (44.45cm) W x 7 5/8″ (19.37cm) H x 19 1/2″ (49.53cm) D
Price and Availability
The McIntosh MX151 A/V Control Center is available for $12,500. See more A/V preamplifiers.

<!-comments-button-->