Loading, please wait...

Marantz America announced the five-channel MM7055 ($1,199) and two-channel MM7025 ($799). The new amplifiers join the MM8003 ($2,399.99) eight-channel power amplifier in Marantz' line and are designed to work seamlessly together with the new flagship Marantz AV7005 Preamplifier. The MM7055 and MM7025 are scheduled to be available in September.
Both the new MM7055 5-channel and MM7025 Power Amplifiers feature stylish designs that complement the aesthetics of other Marantz separates The MM7055 features a Discrete Current Feedback Amplifier 140W (8ohms x5), with balanced input terminals for 5 channels. It can easily be connected to the AV7005 via XLR, providing 140 watts per channel. For even more flexibility in system building, an MM7025 2-channel power amplifier will be available to add 7-channel capability, or provide a power upgrade to existing AVR-based systems.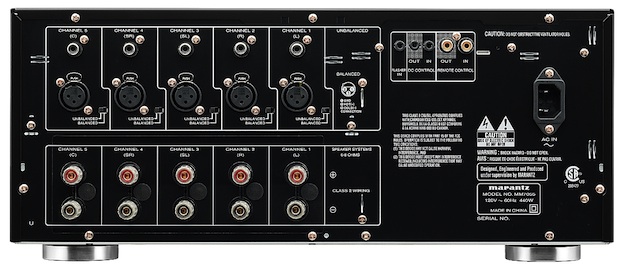 "Marantz has long been respected for the unmatched quality of our audio/video seperates, and we are contuining this tradition with our new AV7005, MM7055 and MM7025. Each of these components is designed to work in complete harmony in a high-performance home entertainment system. Most importantly, our new seperates give discriminating consumers and custom integrators powerful new tools for creating customized systems that meet or exceed the demands of consumers who expect the best."
— Kevin Zarow, Vice President, Sales and Marketing, Marantz America
Where to Buy