Loading, please wait...
Loewe has announced the Connect LED flat screen HDTV in 32-inch and 40-inch screen sizes, which offers simple networking of many multimedia applications. The Connect design has a luxurious finish with a high-quality contrast filter panel. The 40-inch Full-HD panel displays incredibly fast movement in 200Hz picture quality — with precision and sharpness. Backlighting with modern Edge LED technology affords excellent contrast whilst consuming little energy.
Integrated variety in the Loewe MediaPortal
The Loewe MediaPortal pools the advanced multimedia functions and now also has a redesigned user interface. The innovative MediaNet function allows the easy integration of online content into the home entertainment system. Loewe MediaNet allows effortless access to a huge variety of Internet content via the television screen, from videos, to music, news or radio from the Internet, or even simply for online surfing. And all of this can be conveniently operated via the remote control. The built-in LAN interface allows access to pictures, music and videos from the home network via MediaHome. And the easy-to-access USB port can be used as a data source too. Three HDMI interfaces allow Blu-ray players and games consoles to be operated. And future-proofing is taken care of by its two CI+ interfaces, integrated as standard.
The TV as a server and a client
The DR+ streaming function is a further highlight. This allows programmes recorded with the DR+ hard disk recorder to be viewed easily on other Loewe televisions with the new SL Chassis generation too. Streaming is carried out via LAN, WLAN or Powerline via the mains electricity as desired. This means that a recording on the Connect LED's integrated DR+ hard disk in the living room can be played on the Art LED in the conservatory. And at the same time another programme can be watched live in the living room. DR+ streaming even has a solution to allow you to watch to the end of the programme currently running on another Loewe TV: simply pause the programme, activate the DR+ Follow Me function and continue watching the programme straight away, or later, in another room — without missing a thing.
Clearer, more powerful sound
And no pleasure need be forgone in terms of sound either, as the Connect LED models in 32 and 40 inch are all equipped with integrated Dolby Digital Plus, AC3 and dts. A music performance of 2 x 20 watt stereo from closed two-way speakers, plus 40 watt for the DFW sound system (Downfire Woofer) with two bass speakers directed downwards, ensures an outstanding sound experience. Not only do they bring films and music videos to life in terms of sound, but they also lend DVB radio stations, Internet radio, music from the home network or MP3 music from a USB stick an acoustic strength and dynamism.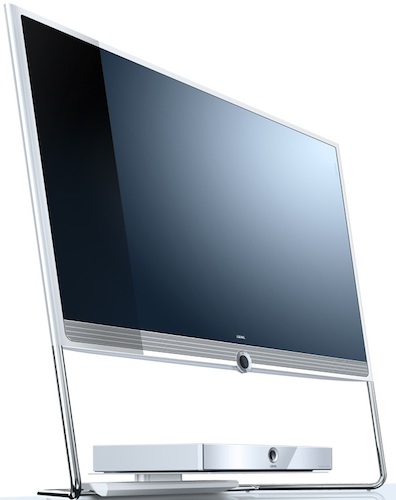 Innovative design
Such a comprehensive interior naturally requires an exclusive exterior. That's why the elegant Connect LED, designed by Design3, displays the latest rendering of the innovative Connect design's natural evolutionary development. The television has been given an additional luxurious touch with the high-quality and elaborate non-reflective contrast filter panel. The Connect LED is available in three attractive colours: High Gloss Black, High Gloss White and Chrome Silver — guaranteed to cut a dashing figure in any room. A sturdy, rotating, Chrome table stand with adjustable incline is included in delivery. As an alternative, a slim trapeze stand (Floor Stand C) is available. And fitting the television on the wall with a VESA wall mount is also easy to do. The appropriate support for this is already integrated in the rear of the housing.
Environmentally friendly
Environmental friendliness and the sustainable use of resources were key considerations in the design of the Connect LED. The Connect LED therefore contains no lead or mercury. The LED backlighting helps to maintain energy consumption at the low level expected nowadays. The OPC power management function optionally adapts the brightness of the display to the ambient light in order to further reduce power consumption. That's why power consumption in stand-by mode is 0.4 watt. It also goes without saying that Loewe products have been equipped with power shut-off switches for years now, guaranteeing real 0 watt consumption.
Highlights
Innovative, slim-line design
Quality contrast filter panel
Multiple networking capabilities via numerous interfaces and reception formats
Intuitive menu navigation in the new-design Loewe MediaPortal
Extensive multimedia functions
DR+ streaming for videos throughout the home
Cutting-edge display technology
Availability
Coming early 2011.
Where to Buy
Reviews Around the Web:

loewe connect led