Loading, please wait...
Slim, subtle and beautifully designed, the HLX55W is LG's first foray into 3D Blu-ray sound bars. Comprising a single black bar with a vertical Blu-ray Disc Player in its center, the HLX55W delivers 3D Blu-ray Disc Playback from an elegant, wall-mountable unit. A wireless subwoofer — which can be easily set up anywhere in the room — gives the sound added bite.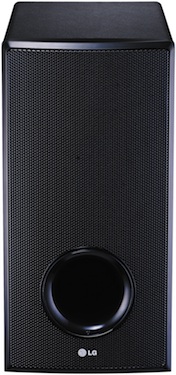 Though compact in size, the HLX55W delivers rich sound, with a 430-watt output audio enhanced by 4.1 Ch. full surround sound and LG's Sound Gallery function. In addition, built-in Wi-Fi, DLNA connectivity and NetCast provide viewers with wireless access to an array of stored and online entertainment options. The choices increase further with external HDD playback offering the perfect platform for files stored on hard drives. The HLX55W also boasts recording and playback for USBs, as well as iPod and iPhone docking — via a provided cradle — which lets users listen to their digital music collection.
HLX55W Specifications:
3D Blu-ray Disc Playback
430W Output with Wireless Subwoofer
Wall-mountable System
4.1 Ch. Surround Sound
LG Sound Gallery
Built-in Wi-Fi / NetCast / DLNA / CIFS
BD Live / Music ID by Gracenote
iPhone and iPod Playback & Recharge
DivX HD / MKV / External HDD Playback
LG SIMPLINK
USB Recording & Playback
TV Sound ez Setup
Where to Buy