Loading, please wait...
Full HD 1080p 240Hz LCD TV with Edge-to-edge Panel Design
On display at CEDIA Expo this week is LG's SL80 series of LCD HDTVs, which shares a similar stunning single-layer design with the SL90, using a sleek edge-to-edge panel of glass over a slim bezel. This design makes the screen and bezel appear to blend seamlessly together.
"The SL80, with its slim style boasts a depth of just a mere 1.8 inches. The combination of this unique design with slim depth makes the screen appear larger and helps draw viewers in, for a more engaging viewing experience," Reiner explained.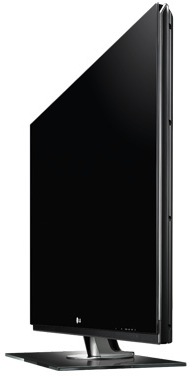 The SL80 boasts TruMotion 240Hz technology to improve motion picture response time so consumers experience a smoother, more natural picture during fast-action scenes. Additionally, LG's anti-glare filter on both the SL80 and SL90 reduces glare to provide a more pleasant viewing experience even in brightly-lit rooms.
For a complete cinematic home experience, the SL80 has a dynamic contrast ratio of 150,000:1 for amazing clarity and color detail. The SL80 series utilizes slim CCFL technology to achieve its dramatically thin profile. Delivering a compelling visual experience, the SL80 series is less than 1.8 inches thick at its slimmest point.
The SL80 series is available now in the following screen sizes:
Where to Buy