Loading, please wait...
Ultra-compact SSD enables the accelerated performance of an SSD with higher-capacity HDDs for dual-drive notebooks at 1/8th the size
Intel announced today the Intel Solid-State Drive 310 Series, an ultra-small solid-state drive (SSD) that delivers Intel X25-class award-winning SSD performance, but in one-eighth the size. Measuring 51mm-by-30mm and only 5mm thick, the Intel SSD 310 is a fast, ultra-compact SSD that brings flexibility, ruggedness and scalability to innovative form factors and devices. It can enable highly responsive dual-drive notebooks, innovative single-drive tablets and low-power, rugged embedded industrial or military applications. When paired with a high-capacity hard disk drive (HDD) in a dual-drive system, the Intel SSD 310 can improve overall PC system performance by up to 60 percent.*
A solid-state drive uses no moving parts, and thus is more durable and reliable than a mechanical HDD, while using less power and providing better system responsiveness. The Intel SSD 310 Series contains 34 nanometer (nm) Intel NAND flash memory and is available in an m-SATA form factor in 40 gigabyte (GB) and 80GB capacities.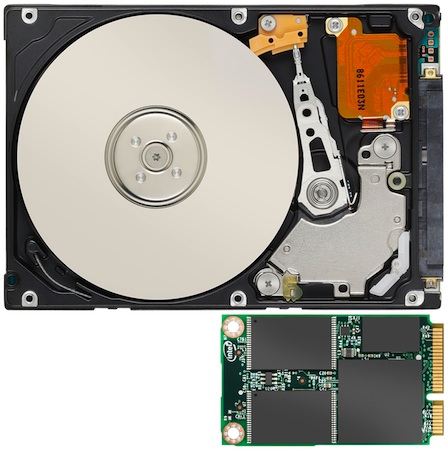 The Intel SSD 310 supports SATA signals over a PCI Express (PCIe) mini-connector for on-board, compact storage in single-drive netbooks, tablets or handheld devices. Weighing just 10 grams, the compact size also enables dual drive all-in-ones, notebooks or small-form-factor (SFF) desktops to help accelerate boot time and access to frequently used applications or files.
"The Intel SSD 310 Series is the first in a wave of SSD products we will introduce throughout the next year," said Tom Rampone, Intel vice president and general manager of Intel's NAND Solutions Group. "With this introduction, Intel is offering full SSD performance in a compact, ultra-small form factor."
Already shipping to customers, the Intel SSD 310 is priced at $99 for the 40GB capacity and $179 for the 80GB version, both in 1,000-unit quantities.
Where to Buy
Reviews Around the Web:

intel ssd 310