Loading, please wait...
PRESS RELEASE
For immediate release
12-6-2007
HeadRoom Releases New Micro Amps!
Our 1.5″ x 3.5″ Micro Line enclosures are so cool looking we couldn't resist the opportunity to repack them full of audio goodness. Now we have AC only units that will save space on your desk, and gloriously fill the space in your head. A new Portable Micro integrates amp, DAC, and a rechargeable battery in one convenient unit.
Portable Micro Amp $399
with DAC $599
What if you could take your listening room with you? We've been asking, and answering, this question for fifteen years. Our latest response: the Portable Micro Headphone Amp. This little gem is a very deliberate blend of audiophile quality parts, a road-worthy aluminum & urethane enclosure, a serious battery and recharging circuit, plus a well-conceived set of travel accessories, all tightly focused on getting you great access to your tunes whether they live on an iPod, laptop, or any other type of portable audio player. If you have a digital source for hitting the road, such as a laptop, portable DVD player, or UMPC, add our internal DAC option for $199.
http://www.headphone.com/products/headphone-amps/the-micro-line/2007-headroom-portable-micro-amp.php
HeadRoom Portable Micro Amp
Micro Amp $399
Our newest HeadRoom Micro Amp is specifically designed to bring the finest possible electronics into an affordable and space-saving unit ready for your desktop, nightstand, or any other listening situation where there's access to an AC-power wall socket. The result is audio quality normally found in gear twice its price and five times, maybe even ten times its size.
http://www.headphone.com/products/headphone-amps/the-micro-line/2007-headroom-micro-amp.php
Ultra Micro Amp $699
We may have perhaps lost our noggin here, but we just couldn't resist putting the ridiculously high-quality electronics of our Max amp in the tiny Micro enclosure. The already excellent Texas Instruments OPA134 op amp of the standard Micro Amp is replaced throughout by the astronomically expensive OPA627, and all resistors and caps are of extraordinary reference-grade quality.
http://www.headphone.com/products/headphone-amps/the-micro-line/2007-headroom-ultra-micro-amp.php
HeadRoom Micro Amp + Ultra Micro Amp
Micro DAC $399
Today's audiophile lives surrounded by gadgets filled with ones and zeros, but getting them out and converted into a signal that sounds really great can get tricky. Not anymore! Plunk down a Micro DAC next to any digital audio source, whether it's your computer at work or the SqueezeBox in the bedroom, and listen to the beautiful-sounding numbers fly by.
http://www.headphone.com/products/headphone-amps/the-micro-line/2007-headroom-micro-dac.php
Ultra Micro DAC $699
We admit it borders on crazyland to put a set of some of the world's finest upsampling DAC chips in a box this small, but we figure you want great sound at your desk just as much as you want it in your listening room — so long as you don't destroy your workspace clearing room for big pieces of audio gear. The little Ultra Micro DAC is just the ticket: a world-class DAC that needs about the same desktop real estate as a cup of coffee.
http://www.headphone.com/products/headphone-amps/the-micro-line/2007-headroom-ultra-micro-dac.php
HeadRoom Micro DAC + Ultra Micro DAC
####
Contact: sales@headphone.com
Press Contact: marketing@headphone.com
HeadRoom
http://www.headphone.com/
800-828-8184
406-587-9466
Fax 406-587-9484
2020 Gilkerson Dr.
Bozeman, MT 59715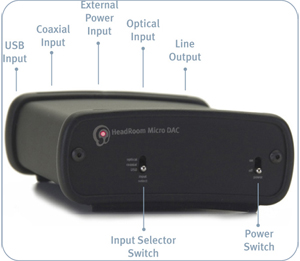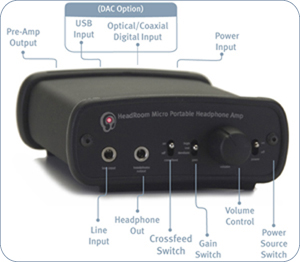 Where to Buy