Loading, please wait...
For 2012, Clarion announced the XC high performance full range Class D digital amplifiers with compact size for automotive or marine use. The all-new XC series amplifiers feature electronic high and low-pass crossovers, PWM regulated MOS-FET power supply, variable bass boost control and auto sense remote turn-on via RCA input. The XC6410 4-channel amplifier offers 600 watts of maximum power output and the XC6210 2-channel amplifier boasts 350 watts of maximum power output. Both XC amplifiers offer 125 watts per channel at 4 ohms or 250 watts at 2 ohms when bridged.
Their sleek new cosmetics and small package offer ultimate flexibility and are also rated and durable enough for marine use with corrosion resistant RCA and block terminals.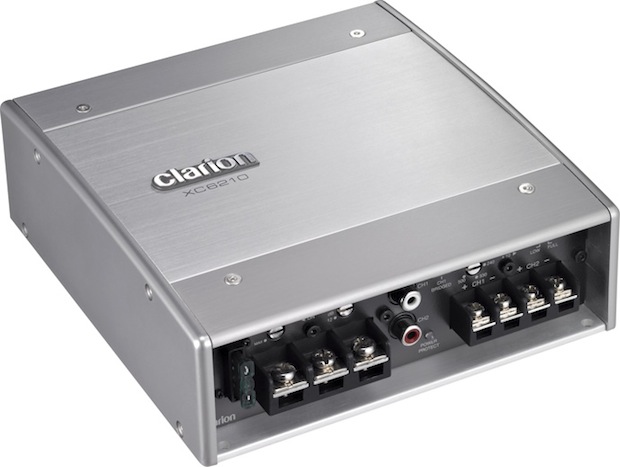 XC Class D High Performance Compact Size Amplifiers Feature:
Class D Topology Power Supply
PWM Regulated MOS-FET Power Supply
Variable High and Low-Pass Crossover
Auto Sense Remote Turn-On via RCA Input
Variable Bass Boost Control
Soft Turn-On and Turn-Off Circuitry
Ground Loop Isolation Circuit
Corrosion Resistant ABYC Compliant Connectors
Meets or Exceeds ASTM D4329 (UV Exposure)
Specifications
| | | |
| --- | --- | --- |
| | XC6410 | XC6210 |
| Type | 4/3/2 Channel Power Amplifier | 2/1 Channel Power Amplifier |
| MSRP | $499.99 | $379.99 |
| Output | 125 Watts x 4 Continuous @ 2-Ohms | 125 Watts x 2 Continuous @ 2-Ohms |
| | 85 Watts x 4 Continuous @ 4-Ohms | 85 Watts x 2 Continuous @ 4-Ohms |
| | 250 Watts x 2 Continuous @ 4-Ohms Bridged | 250 Watts x 1 Continuous @ 4-Ohms Bridged |
| Dimensions | 8 3/4″ x 6 7/8″ x 2 3/16″ | 6 3/8″ x 6 7/8″ x 2 3/16″ |
Where to Buy
Reviews Around the Web:

clarion xc6410