I'm a bit of a novice at all this (well, a complete novice actually).
We were given a Sansui Home Theatre with Built-in amplifier (SAN631) for a wedding gift but we have no idea how to get it working!
This is what our instructions tell us: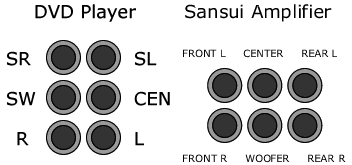 But all our equipment (TV, VCR, DVD) only have Audio output L and R. We're getting a new TV tomorrow which may have more but how can we plug it in?? It has 6 plugs and everything we own only has room for 2?
- Jack