If your computer seems to be running a bit slower than usual, it is possible your computer is running at higher CPU capacity than normal. Most commonly used programs and processes will cause your computer to run at a cool 5%. When watching videos, playing games, and running certain applications, this figure can spike temporarily but should return to normal after the media or application is finished running.
Some issues can cause your computer to run at higher percentages for long periods of time. A high percentage is considered 50% or more for extended periods. This can cause your computer performance to diminish, resulting in slower operation, freezes, and random shutdowns. Some of these issues can include but are not limited to:
A program or application encountered an unexpected error
A program got "stuck" causing it to operate on an infinite loop
Running too many applications at once
Virus/Malware infections
If these problems persist, they can result in the CPU running at 100% capacity regularly, which in turn forces the CPU to continually free up processing power. This causes slow and cumbersome operation.
First things first — you should check the running capacity or your computer in your Task Manager. The Task Manager is an application that displays detailed information about running applications, computer performance, and current capacity usage.
Task Manager Access
Before accessing the Task Manager, make sure all non-necessity programs and windows are closed. Then you can access the Task Manager screen:
Windows XP: Press Ctrl+Alt+Del simultaneously, the window should instantly appear.
Windows Vista / 7 and Windows 8: Press Ctrl+Alt+Del simultaneously. This will bring you to a security screen, and you can click Task Manager from the options listed.
The Task Manager should look similar to this: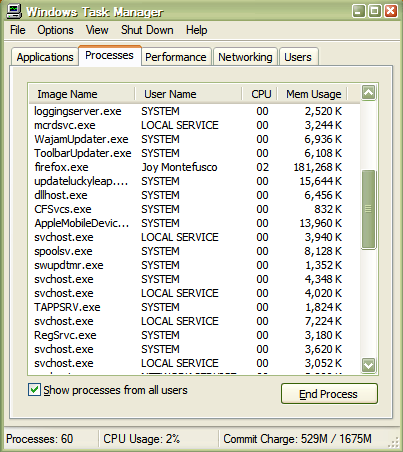 Reducing Processor Usage: Processes
Your computer performance is displayed at the bottom of this window. Pay close attention to the current CPU Usage in the display. In this example, the CPU Usage is running at 2% and current running processes are 60.
Now that you can view current processes and applications as they are running, click the CPU column as pictured below.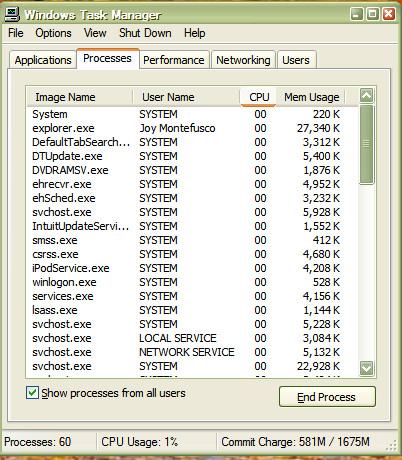 Reducing Processor Usage: CPU Tab
Now you can take note of which programs are causing the highest CPU usage.
If an application is occupying most of the usage, this can indicate there is a problem with the applications process. You can choose to end the process by highlighting the errant program and clicking End Process. See below: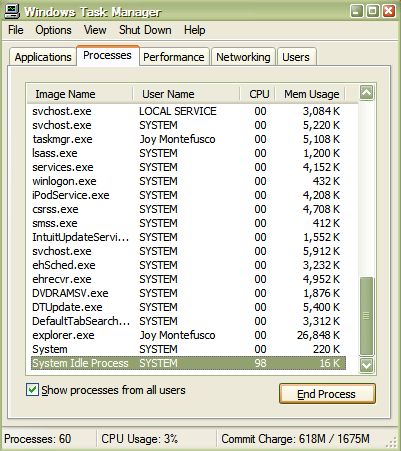 Reducing Processor Usage: End Process
This will end the process you selected, freeing up CPU usage space the application was occupying.
If normal programs such as Word or Outlook are constantly using up your process space, this could indicate a bigger problem. Since these programs normal take up very little usage, a virus may be causing problems with these programs. Installing a reputable anti-virus software could help clear up issues related to virus or spyware infections which could be affecting your computers performance.
It is also possible that your computer simply does not have enough memory in order to run programs you like to use often. In this case, you can call a professional to install RAM or "random access memory" into your computer. RAM can increases your computer's processing ability by allowing for more application information to be stored in its memory, effectively freeing space for running programs.
The post Reducing Processor Usage in Windows appeared first on ReviverSoft Blog.
by Steve Horton